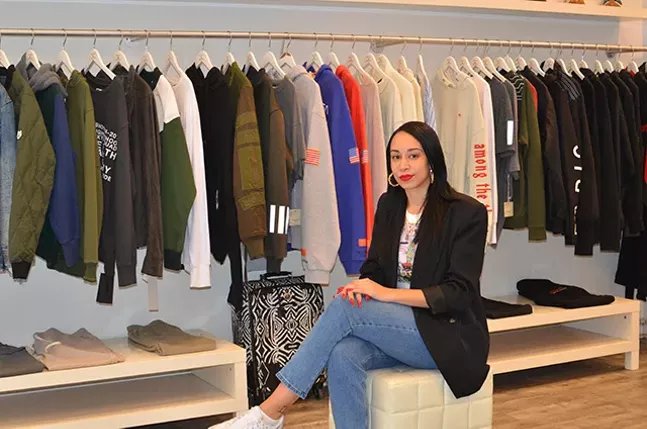 Name: Tara Fay, Store manager, marketing, events and curator, Social Status Pittsburgh, @mstarafay
What are you wearing?

Thrifted denim, a thrifted blazer, the t-shirt is a Comme de Garçon + [Jean-Michel] Basquiat collab, and Fear of God Skylon Nikes.
Tell me what you liked about the blazer.

I was looking for a practical blazer that I could wear with everything. I actually got this right before I got pregnant with her [points to her daughter who is sitting with us] and this carried me through my whole pregnancy. Even if I was just wearing a t-shirt and jeans, it would make me look so much more put-together. I really committed to having a stylish pregnancy. I did OK, the blazer helped.
I am familiar with Fear of God the brand, but tell me more about the shoes and the collab.

Fear of God is Jerry Lorenzo's brand and I think within the past two years, he has done a lot of really prominent collaborations, Nike being one of them. I needed a basic white shoe [and] it's incredibly comfortable — I walk or take the bus everywhere. I dress for comfort more than anything else. I do a lot; I am always very busy. I have two kids and it takes forever to get them ready in the morning, so I have to get [myself] ready very quickly.
You have a lot amazing jewelry on. Tell me about what you're wearing.

I get all my earrings from the hair store. I wear this "100" emoji necklace, I have never taken it off in like four years. It is just a testament to the whole idea of keeping it real, being honest and genuine. A really brilliant woman told me, "The secret to staying young is to never lie." So this is a reminder. ... I have a "T" pendant for my name and a "mom" pendant — the girls were really excited about it. My eight-year-old said, "Oh, it says mom!"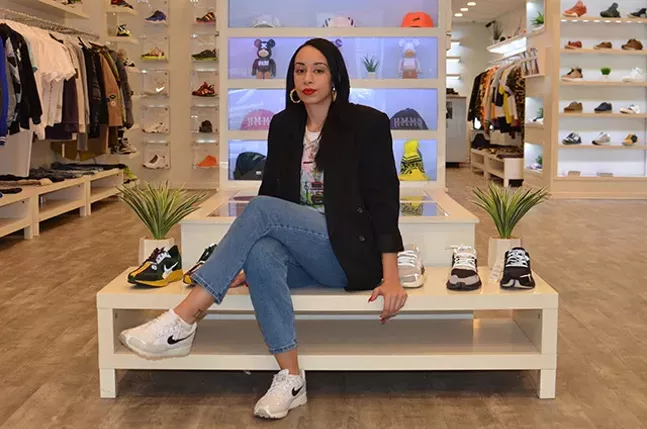 How would you describe your style?
That is difficult to say. I tend to wear a muted palette, so I wear a lot of black, grey, beige. It is rare I do brighter colors, which is why I always wear red lipstick. I dress to be comfortable. But I am also very invested in streetwear and streetwear aesthetics. I love a good streetwear tee with high wasted jeans. I don't know, it is hard to describe...
[Tara turns to ask her colleagues and asks: "How would you describe my style?"]

"Sophisticated streetwear," someone yells out from the back of the store.

Tara turns, says, "Actually, maybe sophisticated streetwear."

["Oh, I like that," another of her colleagues says.]

You have iconic red lips and nails. Do you have a go-to lipstick or nail polish for those?

I have always worn Ruby Woo from Mac. I have never committed to any other red, so it is what it is. For nails I always use OPI's Big Apple Red. My absolute favorite.
Are you wearing any gifts that have special meaning to you?

I think the chains have special meaning because I read recently how gold jewelry has been appropriated by white culture. This is saying a lot. So I love Sex and the City but I remember gold jewelry being called "ghetto." And growing up, the dope girls always had gold necklaces, name-plate necklaces, and name earrings. Growing up, I always wanted to get to the point of having multiple gold chains, so though it is not indicative of where I am in life in terms of status or income, it is something I wanted to claim for myself — reclaiming the idea of Black women wearing gold, it has significant meaning to us. Like your first gold chain or your first XO Link necklace, it is a segue into Black womanhood and it is a Rite of Passage.
We see athleisure and streetwear more and more in high fashion, even haute couture fashion. Where do you see the future and where is Black culture placed or erased from it?

Well, streetwear is rooted in Black culture, as are so many things that high fashion has adopted or appropriated. The way it has moved into high fashion, people of color were responsible for this. Shayne Oliver for Hood By Air did incredible runway shows then moved onto doing work for Helmut Lang. Then we also see the work Virgil [Abloh of Off-White and Louis Vuitton] is doing. We are not allowing that erasure, because Black men are at the forefront at the transition from streetwear to high fashion.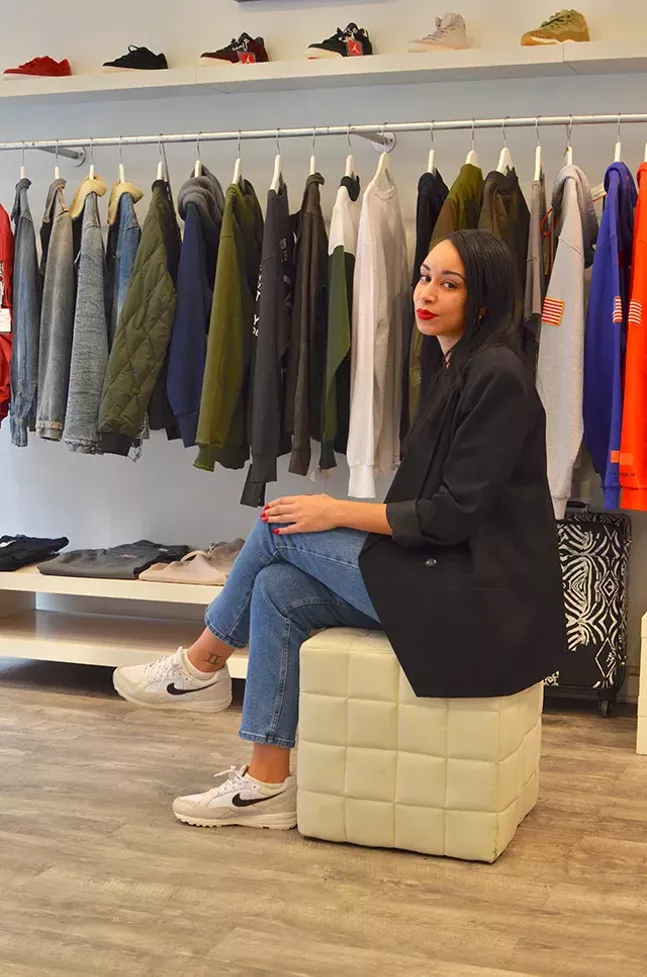 One thing people don't know about this store is that it is Black-owned.

James Whitner is getting great recognition industry-wide in terms of what he is building with his brands, Social Status [seven stores nationally including two in Pittsburgh] and sister stores: ABP in South Carolina and A Ma Maniére in Washington, D.C., and Atlanta.
A lot of community engagement and during NBA All-Star weekend, there was a special release in collaboration with Michael Jordan and a pair of Jordan 6s. He is big on community and engagement. ...You are not going to see him on a private jet, but [rather] in the warehouse getting things done.