If clearly distinguished from journalism, images of human subjects that characterize their plight — be it disease, poverty or hopeless monotony — have a difficult place in contemporary photography. Critics sigh deeply, then groan about power dynamics between those who can leverage the consumption of such images and the distinct and powerless "other." But there is one disarming caveat: What if the photographer is one of "them"?
A wash of empathy paints a different picture, and the gloominess, once depicted, is actually lived experience, an intimate retelling.  
Artists in Close to Home, on view at the Silver Eye Photography Center, straddle this divide between the maker and the member, all in different ways. In doing so, they bring personal narrative into a universal concern: the idea that "home," the exhibition's overarching theme, is a human social center that is both fundamental and flawed.
Intimacy is like a temperature reading of a photographer's relationship to her subject. Photographer Martha Fleming-Ives conveys an intimacy that is felt more than seen in "Red Parts Whole," a rhythmic image installation that unsentimentally traces her sister's struggle with mental illness. Portraits embody an unpleasant story: the "not all there" stares, a truncated semi-nude torso with hands pulling on skin scarred from childbirth, radical weight fluctuations, and a clinical portrait of mother and child. While her body signifies the illness, the non-portrait photographs seem to embody her symptoms as ghostly manifestations: happy family snapshots except one scowling black sheep, a hopeless journal entry and, my favorite, a magazine cover reading "Farewell to the 'Family'" as the Family Ties gang looks on, appearing, in this context, gleefully smug. End-capping this collection is a stunning belly-down nude that cuts through the moodiness with a direct gaze and smirk of omniscience and self-possession.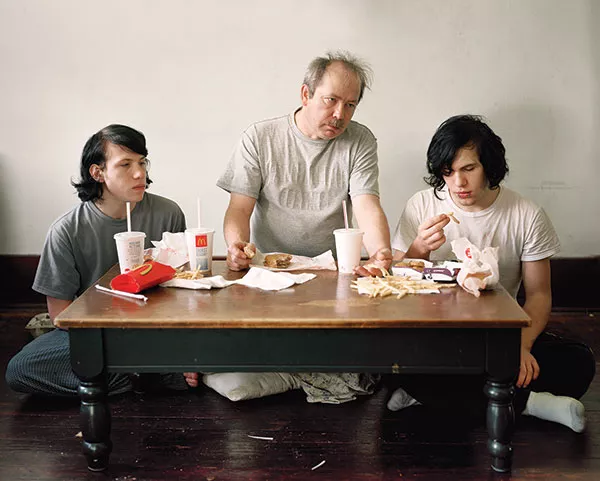 Similarly, Lisa Lindvay's portraits and still lifes characterize mental illness as a shadowy force in "7 years in the Making." The framed and traditionally hung photographs portray a mother who is entirely absent; the subject instead is the effect of her illness on her family and her home.  
The drama of these scenes is unmistakably cultivated from a biblically inspired visual tradition, with the brother's sultry, saintly dignity and pizza-box grease halo, and the father's forsaken glances, his grimy bathrobes like royal draping. There is even a Last Supper: Flanked by indifferent sons eating McDonald's on the floor in stockinged feet, the forlorn-faced dad gazes stage left, a single French fry in his unclenched hand. The two still lifes in this collection are semi-religious: a rainbow of two-liter dollar-store-brand soda lined up on a vomit-green shag carpet is a nuanced relic to inelegance. A family room turned to ruins and garbage, the only piece of furniture a beat-up pool table surrounded by trash. It's a battle scene where all is irreversibly lost to a state of pathological bachelorhood.  
The opposite of warm-blooded intimacy is the chilly detachment of Andrew Hammerand's "The New Town." It's several printed screen shots from a planned community's surveillance feed — an artifact, no matter the context, that comes with built-in doom. Hammerand chooses stills of innocuous but possibly ugly scenarios, like a child being pulled by an adult; some girls playing, but their bodies chopped up by digital noise; a lonesome toddler; and a middle-aged man who just might be a serial killer. The art resides in the image curation, and it plays on illogical impulses in which we imagine ourselves the victims of crimes or captured on surveillance. Elizabeth A. Rudnick's "Family History (Cake)" uses 4-by-5-inch snapshots of gatherings around a cake as painting surfaces. Rudnick paints out the humans, leaving a lonely, tormented cake. Finally, Cameron Gibson's video "The Inner and Outer Vanishing Point" unrolls a desolate-feeling portrait of people doin' stuff in Anytown, USA. All three visualize a home retold with anxiety and disconnection.  
A quotidian aesthetic in photography — a challenging approach, given the volume in which this style is practiced on social media — fights for attention in this exhibition. Reinhart's skillful set of portraits and still lifes give an accurately somber and uncomplicated  view of rustic Pittsburgh. And though he is sincerely inspired as a new father, Justin Visnesky's whispery family album "In Between Days" exhales a sweetness that is misplaced. It seems that "paying due attention," as this approach is sometimes called, wilts here as the darker, deeper tones of Close to Home leech blood from delicate everyday life.
Organizers of the exhibition write: "Perhaps photography is the ideal medium to express these feelings about home because of its ability to depict complicated things, in the most straightforward way ..." Because snapshots of family, or "home," saturate our digital second lives, this exhibition is just as much a stand that photography still has potency in the category of family portraiture, and you can certainly find it here.