There's only one aspect of First Date you'll need to process before you can get on with enjoying its CLO Cabaret production … and that's, well, First Date.
By which I mean you might need a few minutes to accept that the entire show depicts one blind date between uptight good guy Aaron and edgy artist Casey. "Really?" you might ask book-writer Austin Winsberg and the men who wrote the music and lyrics, Alan Zachary and Michael Weiner. "Are you sure?" But once you make that mental adjustment, First Date turns out to be an entertaining evening.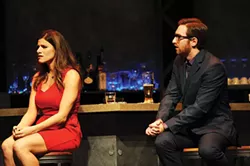 The show opened in New York in 2013. It met with, let's say, indifference from the critics and closed a few months later. Since then, Winsberg, Zachary and Weiner have developed and revamped the script, and this CLO production is the first First Date 2.0.
They must have done a lot of work, because you wonder why some of those New York reviews were so nasty. But, too, you wonder how such a charmingly small and intimate musical ever landed on Broadway.
From the start we know exactly how the date between Aaron (Luke Halferty) and Casey (Caroline Nicolian) is going to end, so the creators are very clever in providing plenty of distraction along the way. The couple will occasionally slip back into a memory, and waiters in the restaurant double and triple as Aaron's best friend, Gabe; Casey's sister, Lauren; a few of Casey's ex-boyfriends; Aaron's ex-fiancée, Allison; and so on. These are actually very funny bits, giving the writers a chance to bring some flash to the show; these numbers also provide the impressively talented supporting cast — Maggie Carr, Connor McCanlus and David Toole — several opportunities to shine, which they certainly do.
In addition to their strong voices, Nicolian and Halferty, as our little lovebirds, provide an essential engaging warmth that wins us over, placing us squarely in their corner. Director Benjamin Endsley Klein's production is just as sure-footed and supple as it needs to be.
If you're going to spend an evening watching two people meet, you won't do it more enjoyably than First Date.