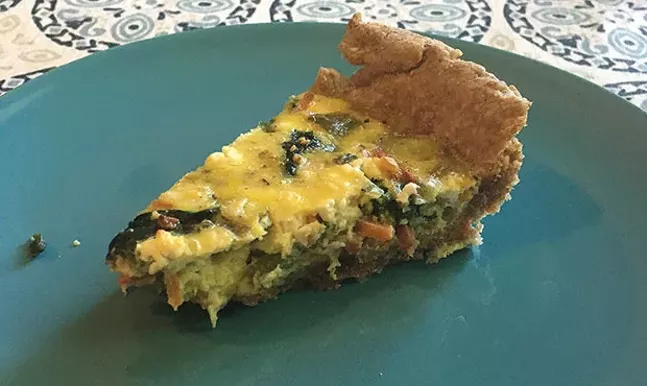 Maybe it's a millennial thing, but lately my lifestyle leans toward that of a Depression-era grandmother rather than a woman in her early 30s. Not only do I obsessively turn off lights in unoccupied rooms, but certain things appeal to me now that never did before: saving the slivers of soap that are too small to use on their own until I have enough for a new bar; washing and reusing Ziploc bags (for the environment's sake!); and taking all the dying vegetables in my fridge and sautéing them up for a quiche. I even sifted through a bag of wilting spinach to save just a handful of good pieces! In the same vein, my generation seems to think that if it's not made from scratch, it's an inferior dish. Just last night, a friend scoffed at Giant Eagle bakery cookies as if they aren't delicious because they aren't homemade. GOOD GOD, THEY'RE STILL COOKIES.
Point being, anyone can make a quiche out of leftovers lurking in the vegetable crisper and, as I discovered, making a crust from scratch is actually manageable. This crust recipe comes from a friend's Italian-American mom, so you know it's legit.
Ingredients:
Crust:
2 cups wheat flour
1/8 tsp. salt
½ cup oil
½ cup milk
Quiche:
½ cup milk
2 tbsp. oil
4 eggs
fridge veggies
½ cup any cheese
Instructions:
Combine flour and salt in one bowl, and oil and milk in another. Slowly add the milk/oil mixture and fold into flour. Do this a little bit at a time. Don't be ashamed to watch YouTube tutorials on how to fold and roll. Sprinkle the countertop with flour and roll it out into a pie-shaped crust with your (until now, decorative) rolling pin.
Sauté veggies in two tablespoons of oil (anything goes with quiche —I used carrots, spinach, onions, garlic and green peppers). Beat eggs and milk together. Add veggies to the mix. Pour over crust and top with ½ cup of (any) cheese. Bake at 350 degrees F for approximately one hour. Invite over your organic-loving friends and brag about how you'll never go back to popping cardboard boxes of dough again.
Kelly Andrews is a poet who plans to stick around Pittsburgh indefinitely. You can find more sad, healthy (and funny) meals on her blog sadhealthymeals.wordpress.com.