Hardy says he's maintaining UPrep programs as best he can.
"Our kids still have the need, so we are very creative in streamlining site-based funds and other federal funds to make sure college opportunities and college visits still occur," he says. "[T]eachers receive annual professional development and we continue our partnership with the University of Pittsburgh."
Budget problems — and yet another reform experiment — also saddled UPrep with unexpected responsibilities.
Peabody High School was closed in 2011 in another round of closings, and some Peabody students were reassigned to UPrep. Meanwhile, the district attempted a controversial overhaul at Westinghouse, changing it into a single-gender academy. Parents who wanted their children to continue attending co-ed classrooms also had to send their students to UPrep.
In the 2011-12 school year, UPrep's population went from 550 to 735. The district originally planned for UPrep to have no more than 600 total students, ensuring smaller class sizes.
"The promise of a limited and controlled student population was ditched," Udin says.
"If the school district had made a commitment to uphold these ideas, then maybe our results would be different," says Hardy.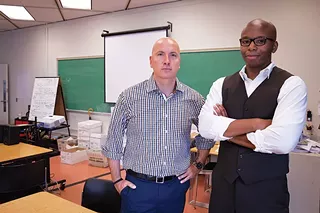 As it was, disciplinary problems swelled along with the number of kids in the hallways. According to the Pennsylvania Department of Education Safe Schools Report, incidents of misconduct at UPrep nearly doubled, to 252, up from 127 the previous year.
Meanwhile, UPrep wasn't getting the assistance Roosevelt had hoped Pitt could offer.
Originally, Pitt agreed to house its Center for Urban Education at UPrep and to provide in-classroom tutoring to students during school hours and professional development for teachers.
When the district had funding to pay tutors, there were more than 100 of them working in most classrooms all day long, says Erika Gold Kestenberg, Pitt's associate director of community partnerships and practice. Now that number varies, but it's considerably less.
Alan Lesgold, the dean of Pitt's School of Education, blames "serious structural barriers" — namely the teachers' union contract — for the absence of a deeper partnership.
The university offers teachers some training in cutting-edge educational techniques during school hours, but Lesgold says they offer professional development only "when the [teachers] contract allows, since there are no district funds to pay teachers to come to training outside the school day." (The district says UPrep teachers have a professional-development period every day, but it isn't provided solely by Pitt.)
UPrep has also struggled to hold onto the expertise Pitt has provided. Union seniority rules allow teachers to choose a preferred job at another school when positions become available. Additionally, teachers with fewer years of experience can be displaced from UPrep by a teacher from another school with more years of experience. As a result, Lesgold says, "each year a number of the people we have worked with end up being displaced or moving to schools they prefer."
By contrast, an agreement with the union at the Science and Technology magnet school prevents teachers from being displaced, although it can't stop them from leaving if they choose. Such an agreement hasn't been reached at UPrep. District spokeswoman Pugh says that teachers at Sci-Tech are more intimately involved in designing things like curriculum at their school "and in order to support the program, they needed to have those protections there."
Getting the full benefit of Pitt's help, Lesgold says, "would require flexibility that doesn't currently exist." While Pitt makes "an annual six-figure investment ... mostly in faculty and staff time spent in UPrep," without the ability to retain a critical mass of highly skilled teachers, "We achieve small successes, but not major transformations."
According to Pittsburgh Federation of Teachers president Nina Esposito-Visgitis, district teachers have worked longer school days in other district schools, including at the district's (now-scrapped) Accelerated Learning Academies. But she says it's unfair to expect teachers to work longer hours without paying them more.
"It's much easier, instead of talking about the real issues, to blame teachers," she says. "We're willing to be innovative and work with the district."
Similarly, Esposito-Visgitis says that there are ways to encourage teachers to attend additional training. For instance, teachers are paid a workshop rate when they attend professional development over the summer.
"You can't make them come, but a lot of our schools have done a lot of creative things to get teachers to come in after school and on the weekends," she says.
Esposito-Visgitis admits there has been some turnover at UPrep. According to the district, last year, an average of 50 percent of teachers and staff have changed over each of the past five years. But she says teachers aren't the cause of UPrep's problems.
"I don't consider UPrep a failing school," Esposito-Visgitis says. "I'm really proud of what [our teachers have] done, but it's unfortunate that some of the programs weren't carried on, and a lot of districts have that problem."
Education-reform expert Bryan Hassel agrees.
Hassel says many of the UPrep reforms — like laptops and uniforms — are common-sense solutions. And "[g]iving teachers more time and giving students more time has been shown to really have an impact," says Hassel, who works for education policy and consulting firm Public Impact. "Low-income, disadvantaged students often need more time to get up to the standards we have."
Still, he adds, it's not unusual for such efforts to get mired in financial and contractual problems.
"Union contracts sometimes specify hours of work [and] how teachers are assigned in ways that limit the ability of schools to reorganize things," Hassel says. So if a district wants to carve out exceptions for a given school, Hassel says, contracts often must include an "opt-in" clause allowing teachers to volunteer to work in schools with longer hours.
At the same time, Hassel says, school districts have to be realistic about the cost of reforms and ask, "If these things are important, how can you restructure your funding to pay for it?" Administrators "need to design reforms that are sustainable from the start, not depending on a temporary source of funding."