What makes a classic? Whole libraries could be filled with essays, arguments and philosophical treatises on the subject, but for our purposes, "the test of time" suffices. All too often, "classic" means "tired old chestnut." Sometimes, though, the spark of what made a play great in the first place comes through.
Here are seven, in order of original presentation:
AN ILIAD. Homer's epic poem (c. 1260 BCE) became a stunning one-man showcase of strenuous storytelling by Teagle F. Bougere in Pittsburgh Public Theater's production of the 2012 reimagining by Lisa Peterson and Denis O'Hare, directed by Jesse Berger.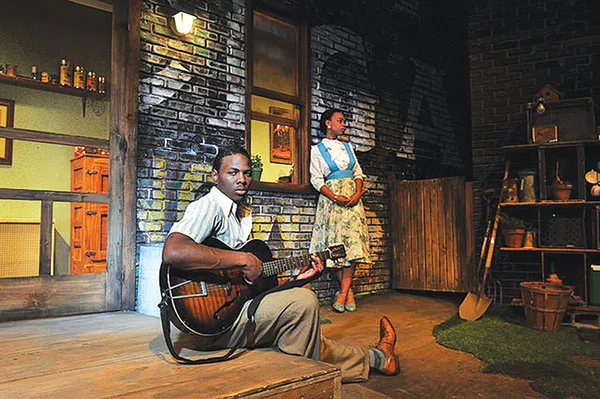 AGAMEMNON. University of Pittsburgh Stages recreated Aeschylus' tragedy (458 BCE, translated by British poet Ted Hughes) as glorious pageant filled with poetry, madness and a studied use of color. Directed by Dennis Schebetta.
FIXING KING JOHN. Granted, Shakespeare's history play King John (c. 1596) is not so well known these days. But No Name Players' production of playwright Kirk Lynn's rewrite was funny, fast and profane — with grit and power tools. Directed by Steven Wilson.
A STREETCAR NAMED DESIRE. Barebones Productions and director Melissa Martin kept the focus on Tennessee Williams' greatest heroine and her tragic "otherness" in a pulsating 1947 New Orleans slum. Tami Dixon delivered a masterful, multi-layered performance as Blanche.
WAITING FOR GODOT. PICT Classic Theatre put the accent on the first syllable and on a smooth delivery — both verbally and physically — of Samuel Beckett's 1949 absurdist comedy. Aoife Spillane-Hinks directed a perfect Pittsburgh-based cast: Martin Giles, James FitzGerald, Alan Stanford and Ken Bolden.
THE FANTASTICKS. Opera Theater SummerFest produced this cozy little wisp of a show with warmth, gentle humor, lovely voices and delicate movement, directed and choreographed by Peter Kope. The world's longest-running musical opened in 1960, with music by Harvey Schmidt and libretto by Tom Jones.
SEVEN GUITARS. Carnegie Mellon University's School of Drama produced a perfect chord of talent — actors, designers, et al. — for August Wilson's 1996 tale of poetry, anger, hope and despair in 1948's Hill District. Director Cameron Knight had choreographic help from the inimitable Tomé Cousin.