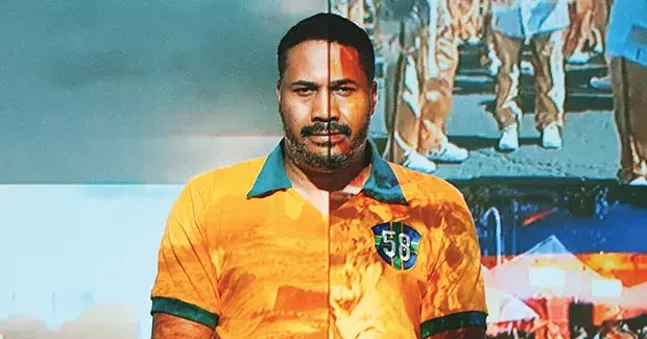 How can art promote dialogue and improve global relations? Civil Rights and Civil Wrongs, opening this weekend at the Mattress Factory, explores this question.
The show, curated by Dr. Tavia La Follette, features seven artists (four from South Africa, three based in Pittsburgh). It takes a global perspective and explores the common spirituality, oppression and strength of people of color in both South Africa and the United States.
The long-term project consisted of a cultural exchange and collaboration between artists from both countries. Pittsburgh-based artists Alisha B. Wormsley, Ricardo Iamuuri Robinson and Chris Ivey assessed the impact while installing their pieces.
Ivey and Wormsley commented on how incredible it was to see similarities to the U.S. when they visited South Africa. Ivey, a documentary filmmaker, found a common spirituality.
"I was showing some of the people in New Orleans the stuff I shot in South Africa, and they were like, 'That's very similar to what we've got here' — spiritually it's the same,'" says Ivey.
Wormsley emphasized that black communities were affected by the same issues in both countries. She specified gentrification and the erasure of black women.
In South Africa, Wormsley sought stories from women of color to incorporate into her work, which she describes as focused on "black women and their space and form."
"It's about black women freeing themselves from whatever societal norms are," says Wormsley. "And there's a lot of references to conjuring, and — I think a title the U.S. would use is witchcraft. But really, it's a connection to nature and healing, and using herbs and caring for each other outside of these capitalist structures."

Ivey also incorporated spirituality into his work for the show. He describes pieces for
Civil Rights
as "prettier" than his usual work.
"It's still hard, but I try to show the beauty through the raw," he says.
Still, his work isn't sugarcoated.
"Not everything has to be stylized and glamorous," Ivey says. "You can find beauty in getting to know people and hearing their stories."
He recommends viewing in chunks his submission, a long video including individuals from South Africa and the U.S. sharing their stories.
"I want people to watch one part, take it in, and then come back for another part," he says.
While Wormsley and Ivey collected narratives to incorporate into their works, Robinson found a different kind of story. He collects sounds for films.
"Every culture and every country have its own soundtrack," says Robinson. "A lot of my work is influenced by that sonic environment, so it was like going over there to collect paint.
Robinson defines sound as the content and color of his piece, which aims to overwhelm the audience with a shocking red hue on entering the room.
"The piece is called 'In the Red,' and it deals with that phrase particularly," Robinson says.
Some collaborative elements of the project have been halted due to visa issues. Though the South African artists exhibited in the show were supposed to visit the U.S. earlier, some have been unable to enter the country. Wormsley says this development is not unusual.
Wormsley considers this cohort of artists from both countries a "collective," and emphasizes that La Follette keeps information and work flowing among the artists.
"She's kind of the strength of this," says Wormsley.
This project has pushed the artists to think globally and spiritually, and Wormsley considers her work an exploration of transcendence.
"I've been thinking a lot about how black women could be erased when they're the mothers of humanity, and so is it really erasure?" says Wormsley. "No, it's more conjuring — it's this ability to have the grace to transcend your form and be anywhere."
Ivey also expressed a focus on spirituality. The wide scope of this project pushed his work to explore something more universal.
"When I work with development stuff, it's not about spirituality at all, it's about who has money," he says. "Here I want to dig deeper."