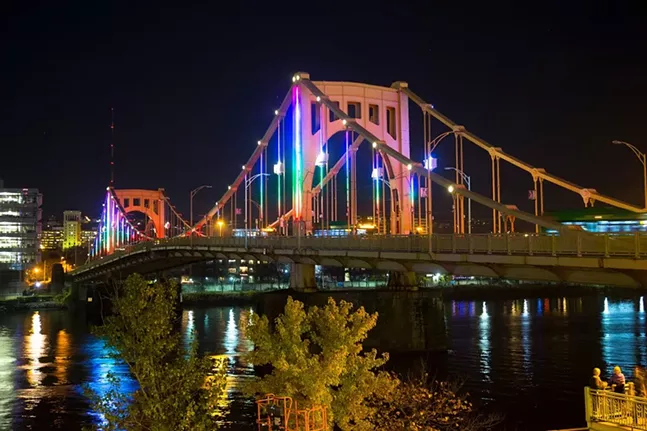 Are you a local artist or organization producing public artwork with a purpose? The Greater Pittsburgh Arts Council (GPAC) and Pittsburgh Mayor Bill Peduto are seeking candidates for the Mayor's Award for Public Art.
Applications
are now being accepted for the 2019 Mayor's Award for Public Art. In terms of criteria, nominees must have implemented a work of public art or developed a public art initiative in the Greater Pittsburgh region. The project does not have to be located within city limits, and artists do not have to be located in the Pittsburgh region or be natives of the Pittsburgh region. However, organizational nominees must be located in the Greater Pittsburgh region. Mayor Peduto will select a finalist based on the quality and impact of the project or initiative.
"We're fortunate to have a mayor that is a longtime supporter of the arts," says GPAC CEO Mitch Swain. "Work from local artists hangs on the walls of his offices through our Art on the Walls programs. He understands the value and importance of having artists working and living in our communities."
Applications will be accepted until May 27 at 11:59 p.m. The 2019 award will be presented during a GPAC event on June 18.
Established in 2007, the Mayor's Award for Public Art seeks to acknowledge projects or initiatives that Office of Public Art director, Sallyann Kluz, describes as helping to "shape the region or a neighborhood socially, economically or aesthetically."
"Greater Pittsburgh is home to hundreds of works of public art, ranging from commissioned [work] to artist-initiated projects, each adding to the region's vibrancy, sense of community, and diverse history," says Kluz.
Past winners include Tom Sarver, the Homewood Artist Residency, and the Fiber Arts Guild, whose project
Knit the Bridge
covered the Andy Warhol Bridge in colorful crocheted panels. The most recent winner, Andrea Polli, took over the Rachel Carson Bridge with
Energy Flow
, a large-scale, wind-powered display of 27,000 multi-colored LED lights designed to visualize environmental data.
Nominations will only be accepted electronically through this
electronic form
.
If you have questions, please contact Derek Reese at
dreese@pittsburghartscouncil.org
or at 412-391-2060 x233.