Some favorite songs from local artists in 2016
by Alex Gordon
Mars Jackson & Nice Rec — "Sunrise"
Sandman — "Animal Jen"
It It — "The End of Pig Death"
S.L.I.P. — "No Hope for the U.S.A."
Swampwalk — "Mailbox"
Tunatown — "Bird Man"
Good Dude LoJack — "The Golden Peg"
Mars Jackson — "Rabbit in a Hat"
Emily Rodgers — "In the City"
The Hipsters — "Finally Returning Home"
---
Music that helped me get through the day when 2016 felt like 1984
by Caralyn Green
Solange — A Seat at the Table: The younger Knowles sister's intentional ambivalence on her breakthrough R&B album is a thing of healing, empowerment and poetic mystery. If Janelle Monáe is this generation's Prince, Solange is our Kate Bush.
Blood Orange — Freetown Sound: A funky 17-track clapback "for everyone told they're not black enough, too black, too queer, not queer the right way," Dev Hynes told Entertainment Weekly.

Hamilton Mixtape: "Immigrants (We Get the Job Done)," featuring K'NAAN and Snow Tha Product, feels especially relevant under the new American demagogy.

Lizzo — Coconut Oil: Radical joy and righteous discontent are at play in equal parts on the Minneapolis rapper's confident EP.

---
Best album everyone slept on in 2016
by Meg Fair
Face Always Towards the Sun by Blithe Field

As I peruse end-of-the-year album round-ups, I cannot help but notice a gaping hole in all of these lists. Where the heck is Face Always Towards the Sun?! In the present hellscape we live in, few things offer better escape than a carefully constructed album, especially one that manages to embody abstract concepts like nostalgia and acceptance. From the warm welcome-home hug of "Sleeping Bags in a Row" to the blissful "Milkshakes in the Rain," Spencer Radcliffe uses ambience, electronics and room recordings to create an intimate and special sound unlike anything else released this year.
---

My favorite local releases of 2016
by Margaret Welsh
No Time — You'll Get Yours

The title says it all: This record is out for blood. The highly anticipated LP from Pittsburgh's catchiest oi! outfit is seriously pissed off, which is cool because so is everyone. Aggressive earworms like "Man in Uniform," "Bow to None" and, of course, "Shit Society" are sure to resonate with those trying to stay angry in the new year.
Swampwalk — Us vs. Them

Self-recorded with a four-track sequencer run via her Gameboy (and a variety of other helpful synths, pedals, a drum machine, etc.), Anna Hale's second full-length is full of layered hooky melodies, heavy beats and smart, stirring lyrics.
PK Delay — Dad

Self-described father-ish figure PK Delay boldly and/or cheekily proclaimed 2016 "Dad Year," and who am I to argue? On this EP, the prolific Delay effortlessly flows over Florida-based producer dirtbag's subtle electronic backbone, and guest spots by Choo Jackson and others add grit and balance.
Empty Beings — Confront the Living

Dark, gothy post punk is well-mined territory, but Empty Beings does its New Wave forbearers proud and distinguishes itself with exquisitely sinister guitar tone and memorable vocal lines. The catchiest riffs from this EP haven't left my head in weeks.
Old Head —– Old Head

This pro lineup (Phil Boyd, Jason Kirker and Mike Layton) plays like a band with nothing to prove, which, of course, means they end up proving to be very cool. Where so much psych-rock revivalism rings hollow, Old Head brings to mind the parable of the wise man who built his house on a foundation of solid rock.
---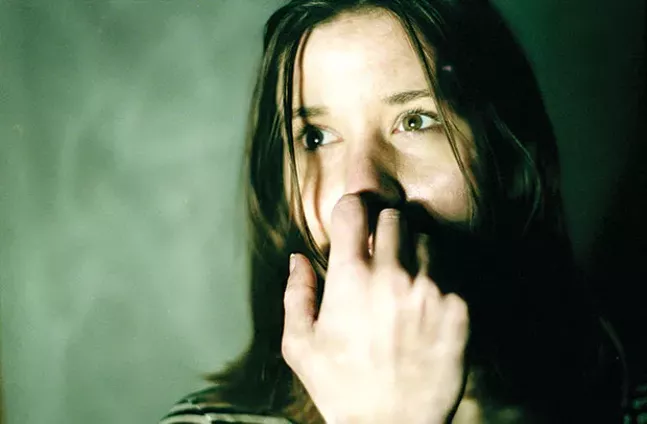 Some memorable shows of 2016
by Margaret Welsh
Circuit Des Yeux, Feb. 27, Club Café
Chicago-based experimental artist Haley Fohr, who performs as Circuit Des Yeux, cut a mysterious figure, hair brushed over her face as if she would have liked to disappear behind the force of her devastating baritone. She almost did. My soul is still recovering.
Lauryn Hill, May 11, Carnegie of Homestead Music Hall
It was her first time back in Pittsburgh since 1999, and fans were ready — if also apprehensive, since Hill caused some controversy by showing up hours late for earlier shows on that tour. She was a little late, but she was also pretty much perfect, so no one seemed to mind.
Vanilla Poppers, Aug. 20, Cattivo
With blistering vocals and irresistibly energetic tunes, the set these Cleveland punks played at Skull Fest won me over for life.
Angel Olsen, Sept. 12, Mr. Smalls Theatre
Everyone loved My Woman, and rightly so, but no recording can capture the pure vocal power that Olsen brings to her live shows. Also, two different (minor) fights broke out during her set — one of which involved a woman kicking some bro-y guy in the back of the knee when he wouldn't stop talking. What a night!
---
Favorite quotes from interviews, 2016
by Alex Gordon
"All music should be folk music. If it's not true to the origins of your forbearers, then go be a used-car salesman." — David Thomas, Pere Ubu

"That's sort of like doing the 'YMCA' and 'Hava Nagila' in the same dance." — Henry Shapiro, cantor at Parkway Jewish Center

"I don't look like a tourist, but I don't look like I belong a lot of times." — Idasa Tariq

"There's a certain amount of manpower that you need to put an album together, that somebody like Beck, who can play instruments and knows about what kind of compressors to use — Beyoncé doesn't care about that. She uses other people to do that, but she does the important thing, which is pick what she's gonna do. I think a lot of people are working in that way now and I don't have a problem with it." — Andrew Wyatt, Miike Snow

"Just because I think fancy restaurants and drinking are disgusting doesn't mean everybody has to." — Dave Rosenstraus, S.L.I.P.

---
Top 5 things musicians said to me in 2016 that might sound crazy at first, but ring true the more you think about them.
by Mike Shanley
"My work always has these kinds of ideas about art being able to imply, implicate and condition change in our society. That change is a purely spiritual one that has to be actualized by individuals who will take the opportunity to understand themselves through art in order to have this chance to do it. Art is a less divisive practice than religion and, let's say, work ethic and things like that. It allows you to find the better part of yourself and let that better part of yourself become a motivation to change our society to what we'd like it to be." — Trumpeter Wadada Leo Smith

"… Older dude in his late 30s trying to be cool at the '80s wine bar, watching Live Aid on TV. That's kind of silly, but it's kind of a misconjuring of an era, which I think is how memories work." — Guitarist Dan Bejar of Destroyer, inventing a new verb as he describes the mood of the band's album Kaputt

"In the '50s and '60s, we did a lot if things, and [Sun Ra] said, 'With this music, they'll understand what I'm talking about in the 21st century.' And I thought, 'Damn, I gotta wait a long time! It'll be a long time before they get to understand.' Now they do."

— Marshall Allen, leader and saxophonist of the Sun Ra Arkestra, on the forward vision of his late boss
"I blow the saxophone as a vocalist. I tell a story. 'I Left My Heart in San Francisco' does not have a trumpet solo, a piano solo and a bass solo. It would ruin the whole thing. It's a message, a short story. You want a novel, you listen to John Coltrane!"

— Alto saxophonist Richie Cole
"Jazz is a big spectrum and there's a lot of jazz in it. We might be playing different kinds of music than a traditional jazz, but that's something we can also do. We're educated in tradition of jazz but we don't have to be stuck in it. There are people in jazz who understand that. People like Ornette Coleman. Sun Ra. People like Cecil Taylor, the Art Ensemble of Chicago. We understand a quality of the music, to try and keep it on a certain level. But at the same time, we try to push it forward. Otherwise, it's just redundant. What we hate, what we detest, we try to run from, is to be put in little boxes.
— Tenor saxophonist David Murray
---
Worst band names of 2016
by Troy Michael
Breast Massage
Cigarettes After Sex
Horse Jumper of Love
Jackal Onasis
Let's Eat Grandma
Naked Walrus
Sharkmuffin
---
Most intriguing archival releases of 2016
by Bill Kopp
John Mayall's Bluesbreakers — Live in 1967, Vols. One and Two (Forty Below)

At 83, the godfather of the British blues remains a vital performer (he played Jergel's in September). But he established his reputation early with his keen eye for talent; the list of Mayall sidemen who would go on to fame is long and impressive (Eric Clapton, Mick Taylor, etc.). For a brief period in 1967, his group included three players who would soon form the original, blues-based Fleetwood Mac. These previously unreleased tapes showcase that lineup's fiery blues-breaking.
Herbie Mann — Live at the Whisky 1969: The Unreleased Masters (Real Gone Music)

All too often dismissed as a hack, jazz flautist Herbie Mann was in fact one of the earliest musicians to explore what would come to be known as world music. True, his musical explorations sometimes made him look like an opportunistic bandwagon chaser, but he was a restlessly inquisitive musician. These tapes show the adventurous leanings of the man, with a group that featured out-there guitarist Sonny Sharrock and future Weather Report bassist Miroslav Vitouš.
Big Star — Complete Third (Omnivore Recordings)

For a group whose albums sold in minimal quantities on initial release, this early-'70s power-pop/rock group out of Memphis exerted a mighty influence on those who would follow; in that sense, they're a kind of Southern answer to the Velvet Underground. The group's final album is also its most difficult, and not the best place for novitiates to begin. But for those who are fascinated by the edge-of-chaos vibe of Big Star's Third, this box set collects every bit of rehearsal tape, outtakes, working versions and demos, plus the album-proper in its entirety.
Alice Cooper — Muscle of Love (Audio Fidelity)

In the beginning, Alice Cooper was a band, not a singer. As the group's fortunes took off, vocalist Vincent Furnier fully adopted the Alice persona, eventually ditching the original band for more seasoned studio players. Muscle of Love is an oft-overlooked entry in the Coop's catalog, and it represents the last gasp of that original lineup (with guest spots by some of their eventual replacements). This SACD release presents the album in superb, high-definition audio quality; tracks like the unused James Bond theme "Man With the Golden Gun" are ripe for rediscovery.
The Archies — Sugar, Sugar: The Complete Albums Collection (Cleopatra)

As the story goes, pop impresario Don Kirshner formed The Archies after tiring of the creative run-ins he had with The Monkees, a "real" group he could no longer control. A cartoon group featuring Archie, Reggie, Betty, Veronica and Jughead would give him no lip. The studio cats who made these five albums were surprisingly skilled players and writers; a number of these songs sound like shoulda-been hits. Often walking a thin line between garage rock and bubblegum, The Archies' music ended up being more durable than its planned shelf life. Fidelity on this set is a bit dodgy (the master tapes were likely unavailable), but it's a heck of a lot of fun.