Sometimes life gives you lemons, and other times it gives you fried chicken in between two donuts.
Pittsburgh was one of three test markets to get the new Kentucky Fried Chicken & Donuts Sandwich. It debuted on Tuesday. The sandwich, which the
Pittsburgh Post-Gazette
reported runs for $5.49, combines a crispy chicken fillet with two glazed, raised donuts. Chicken and donuts are not a super rare combination, as Federal Donuts in Philadelphia has been serving both side-by-side for years. But eating them all at once in a sandwich is something new.
City Paper
staffers were finally hungry and brave enough to taste the sweet and crispy concoction today. Here are our thoughts.
__
First of all, this thing is huge. The chicken fillet is big and so are the donuts. But, honestly, the combination mostly works. The donuts are still pretty fluffy and the chicken is crispy. The sweet and savory combo is satisfying like chicken and waffles. The glaze on the bottom donut melts with the heat of the freshly fried chicken, which makes this monster incredibly messy, but also very similar to maple syrup added to chicken and waffles. - Ryan Deto, senior writer
It's a good sandwich, but it feels too big and heavy for one person. And the richness needed to be cut with something spicy or acidic. Some coleslaw could help, and the batter of the chicken could use much more black pepper. It was better than I thought it was going to be. The donut has a funnel cake flavor and mixed well with the chicken. It would be better if it was made with the spicier Nashville Hot Chicken. - Kevin Shepherd, director of operations
When we opened the box, we all kind of nodded imperceptibly, because we were expecting a chicken sandwich with donuts for bread, and that's exactly what it looks like. It could not look any more like a fried-chicken donut sandwich if it tried. I did not enjoy it at first. Sweets are not my thing and my first bite had way more donut than chicken, which was a pretty unpleasant imbalance. I aimed for much more chicken than donut in my second bite, like a 6:1 ratio, and that seemed like a much better approach for my palate. I threw in the towel after the third bite, but that might have been because I was eating plain chicken tenders on the side. Thirty minutes have passed and I feel fine. - Alex Gordon, managing editor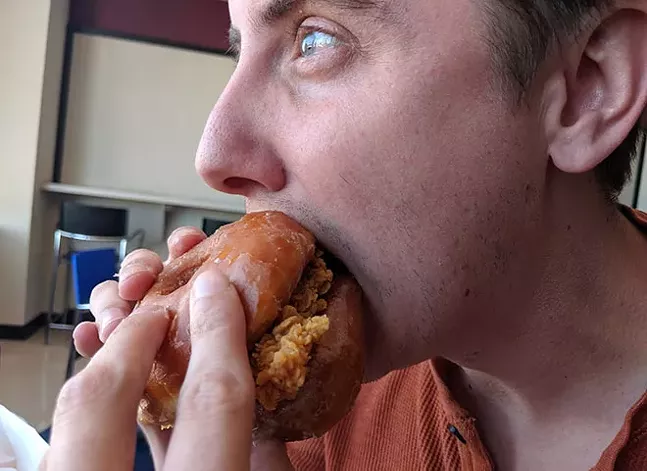 The donuts alone were delightfully sticky-sweet grease bombs that put me in a food coma after two bites. - Josie Norton, graphic designer
The longer I went without taking a second bite, the worse the sandwich got. It wasn't seasoned enough or paired with a sauce to mask the metal-ly taste of overused fryers. One bite was enough. - Maggie Weaver, staff writer
Sweet and salty is always a good combination, so it has the right idea there. The donuts are too sticky (and wet?) to make the eating experience enjoyable. And there's too much fried-on-fried flavor, it needed a tangy sauce or pickle to break it up so it feels like less of a fried rock in your stomach. One or two bites is good but I'd want to die if I ate the whole thing. It'd be good as a slider. - Hannah Lynn, staff writer
When I took my first bite of the KFC Donut Sandwich, I could feel Colonel Sanders standing behind me. He whispered in my ear that I'm going to die one day… and time stood still. Anyway, the individual elements of the sandwich were made perfectly, but together, were boring. A sweet/heat sauce or a bacon jam would make it worth having. - Nick Pagano, sales representative