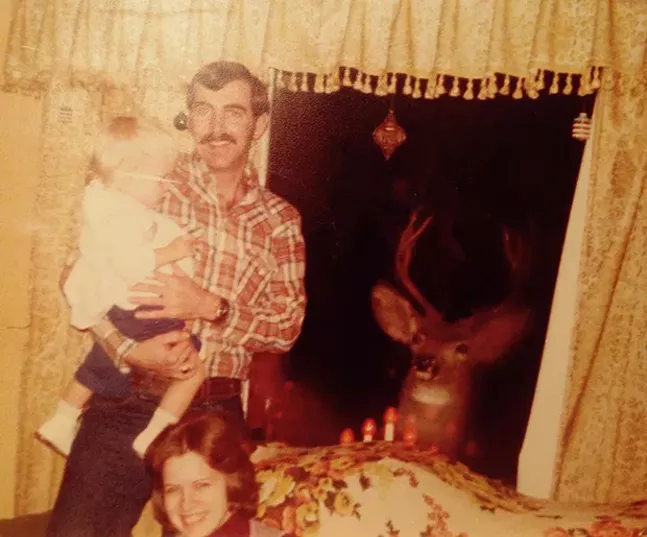 The holidays bring up fond and terrible memories for all. With that in mind, Pittsburgh City Paper staffers wanted to share some of their more memorable holiday experiences. Most involve Santa Claus, and some have a tinge of disappointment. Happy Holidays everyone!


Lisa Cunningham, editor-in-chief:

The taxidermy deer heads proudly displayed around my grandparents' house were decorated with Santa hats and Christmas balls hanging from their antlers come December. Every Christmas Eve, as the entire family gathered around the Christmas tree, my grandfather would sneak out of the house, carrying one of his hunting trophies to the front window, and pretend like it was one of Santa's reindeer stopping by on its way to delivering presents. The deer head would tap against the window and my siblings, cousins and I were overjoyed. Santa! I never did figure it out, which is pretty amazing consider that my grandfather's signature red flannel shirt is clearly visible in the window in photographs. Our parents must have done a good job of keeping all of us kids from running up to the window and discovering the reindeer was decapitated because I can't remember a Christmas ever ending in horrified screams. I'm told my uncle Alan, who is holding me in the above photograph, now continues the deer head tradition with his grandchildren.

Maggie Weaver, staff writer:

I was five years old and finally not scared of Santa.
Santa: "What do you want for Christmas this year?"

Me: "The fishing game!"

Santa: "Anything else? A dolly?"

Me: "Well … maybe I'd like an ice cream sandwich."

Santa began to snicker. My parents rolled their eyes. On Christmas morning, I bounded down the stairs and found an ice cream sandwich perched on my stocking. Eighteen years later Santa still leaves me some ice cream on Christmas.

Jordan Snowden, staff writer:

As a child, I was told to knock on closed doors before entering. One day, around Christmas, I came across a dilemma: a cracked door. Unsure of what to do, I pushed open the door leading into my family's basement. There I saw my father hunched over a kid-sized yellow Volkswagen Beetle, my little sister's number one present request, with a wrench in his right hand. "Well," he said turning towards me, "Santa's not real."

Hannah Lynn, staff writer:

One year, when my sister was living in Los Angeles, I went to visit her over my winter break. We drove to Joshua Tree National Park on Christmas. We stayed in the guest house on a small ranch that belonged to a man who was the exact target audience of Wrangler jeans and his stern German cowgirl wife. After sunset, there wasn't much to do because it was the desert at night on Christmas, so we went to a Thai buffet at a strip mall and went home to eat crackers and watch a marathon of 90 Day Fiancé.

Ryan Deto, senior writer:

Deto-family White Elephant gift exchanges are brutal. The vast majority of gifts are pulled from a bin at Big Lots, with the exception of one decent present. One year, when I was 11 or 12, that gift was a plastic, futuristic-looking chess board. I'm terrible at chess, but this was the only reason to pay attention to what amounts to two hours of passing around broken watches. I had the chess board for a round, but it was stolen by my great uncle. All around, a brutally boring Christmas.