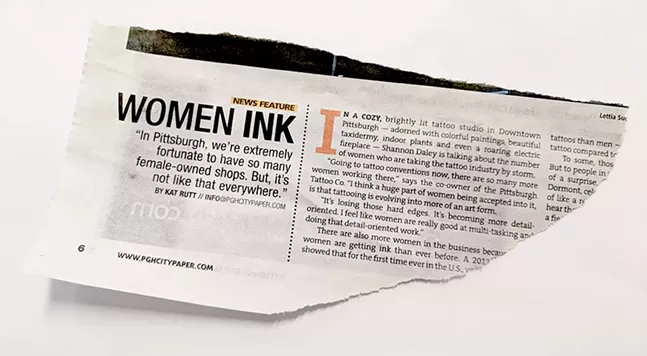 It has come to our attention that one of the subjects of our March 7 cover story was photographed wearing the T-shirt of a white-power band. This was unintended, and
City Paper
wants to take the time to explain what happened.
Our cover story, by freelance writer/photographer Kat Rutt, introduced us to 16 women, who were diversifying the region's tattoo scene. However, shortly after the story was posted on Facebook, we began getting messages that one of the artists, Lettia Suchevich, was wearing the T-shirt of a white-power metal band called Aggravated Assault.
I'll admit it: We didn't catch it. In all my time in the business, I've never fact-checked the words on a T-shirt. You can be guaranteed that we will from this day forward. However, our internal investigation has also uncovered other issues.
We talked to Rutt this morning and she, like us, says she did not know that Aggravated Assault was a white-power band. She also told me that there was no indication that Suchevich was racist or part of the white-power movement. We later discovered that Rutt had removed a swastika tattoo from one of the pictures that she sent to us. She has admitted to doing so. Below is Rutt's statement in its entirety:
"My article, "Women Ink", published by
Pittsburgh City Paper
, is about women in the tattoo business. I did not talk to any of the subjects about their personal politics. The story is about women's success in a historically male-dominated industry. After processing the photos I took of Lettia Suchevich, I noticed a symbol in one of the photos that looked like a swastika. I made the decision to airbrush this symbol out of one photo where the symbol was particularly prominent because I believed if published it could be unnecessarily triggering or inflammatory, which would detract from the purpose of this article. The airbrushed photo was not published in any version of the story. I stand behind this article 100 percent, went to great lengths to put it out in the world, and am forever grateful to all the women who shared their stories with me."
City Paper
was unaware that any photos had been altered. Altering photos without editorial permission (and news photos are never altered) is strictly against
CP
policy. Also, we believe her decision to remove the swastika in one photo, per her own admission, indicates she knew it was problematic, and thus she should have alerted
CP
''s editors. Rutt was not made aware of our policy about not altering photos upon her assignment. However, This goes beyond covering up a blemish or other forms of airbrushing that photographers do. By covering up the swastika, although it was inadvertent, an important, contextual fact was omitted. If we had been aware of this development we would not have run the piece as presented.
During our investigation, we closely examined the photos we did run and discovered a small swastika tattoo was visible in the photograph of Suchevich.
I can honestly say that I don't believe that Rutt's actions were meant to be malicious. I also know how important that this story was to her. However, ignoring someone's racial ideologies to celebrate their achievement as a female small-business owner is not a trade-off that should have been made. Rutt stands by her story in full, but we do not. Please know that the opinions in any posts you read from Rutt are her own, and not the opinions of this publication. Because of Rutt's decisions in preparing this story, we have decided not to publish her work in the future. However, we believe that 14 of the women profiled in this piece deserve to have their stories told, and therefore, we will be restoring an edited version of the story to our website tomorrow.
Rutt called Suchevich this morning, and her comments, posted below, lead us to believe that she knew that she was acting to intentionally tarnish the piece. Suchevich said:
"First of all, Aggravated Assault is my husband, Warren's band. He is the nicest guy I know. I figured I was probably gonna piss a few people off. I don't mind. Personally, however, I hate what modern tattooing has become. It's just a business like everything else. I was taught by skinheads and I'm not ashamed of that. Prior to that, tattoo shops were mostly owned by bikers who would never sell out because they were worried about the image of their business. I don't respect anyone who would do that."
So, here's the thing: We are not in the business of censoring anybody. But this paper decided long ago that there are certain "opinions" that we will refuse to give validation to, and white supremacy and racism are obviously at the top of the list. However, this is not a story about tattoo artists who support white-power groups. This is a story about powerful, trailblazing women who are making a splash in the tattoo world. Suchevich's inclusion in this piece was an insult to these women.
Additionally, other readers also made similar claims about another of the profiled artists, Amber Lambert.
CP
originally planned to leave Lambert's shop, Blood Eagle Tattoo in the story, however, photos were found of Lambert's husband, Erin, wearing several tattoos affiliated with the white power movement. That information had already been corrected in a
second statement
.
I'm extremely disappointed and embarrassed that this happened, and I take full responsibility for it because ultimately, I am responsible for the paper's content. I apologize to the readers who were rightfully offended, and I also thank them for bringing this to my attention. I also apologize to the fantastic women profiled in this piece. You didn't deserve to have this moment ruined by (Suchevich's) selfish decision.