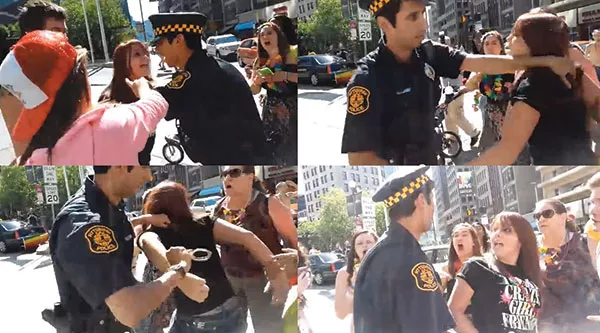 When Pittsburgh police officer Souroth Chatterji arrested 19-year-old Ariel Lawther at the city's annual LGBT Pride festival June 15, he pulled her by the neck and hair out of a crowd and punched her several times before detaining her.
Video that surfaced of the incident quickly made it the first high-profile case of potential police misconduct under Mayor Bill Peduto's watch — and within 24 hours Peduto had promised, "We will work diligently to make sure that justice is not delayed and that we will be able to proceed over the next month to find out exactly what happened, and to take the proper action."
Eighty-one days after the incident, Peduto released a statement from the city's top lawyer exonerating Chatterji, while offering few details about the basis for the decision.
"Objective reviews of the entirety of the evidence may not always reveal what one video, one photograph, or one statement might reveal alone," solicitor Lourdes Sanchez-Ridge wrote in a statement released late in the day on Fri., Sept. 5. "A final report by the Office of Municipal Investigations, including an analysis completed by an independent consultant, has determined that the officer involved did not use excessive force."
Police-accountability experts say the city might be making the right call by exonerating Chatterji, since use-of-force cases are extremely fact-specific. But some are wondering why the city has refused to disclose even basic information about why it exonerated Chatterji, who declined to comment for this story.
"People have too much experience with the city than to trust leaders when they say, 'Trust us,'" says Vic Walczak, legal director of the Pennsylvania American Civil Liberties Union. "This is when you need transparency — not on the daily calendar," referring to the daily schedule Peduto publishes.
One way the city could be more transparent, Walczak says, is to produce additional video footage that police-union attorney Bryan Campbell says helped exonerate Chatterji.
According to Campbell, the video — shot from a nearby PNC Bank branch — resolved conflicting witness accounts about whether Lawther physically assaulted an anti-gay protester before Chatterji arrested her. "It was pretty clear from the film, at least, that the young lady assaulted one of these preachers and the officers tried to take her into custody for that," Campbell says.
But so far, the city is not making that video available to the public.
Mayoral spokesman Tim McNulty said that OMI, the city's internal review mechanism, does not release details of internal investigations, even after they are completed. He would not say whether the policy was based on any law or provision of the city's contract with the Fraternal Order of Police.
The Peduto administration has also refused to say why it decided to use an unnamed "independent agency" to review the incident, or why it plans to require "third-party analysis in all excessive force investigations," instead of relying solely on OMI.
McNulty said the city would not name the agency because "the law department and OMI do not release the names of witnesses or interviews done in investigations," and because the city considers the agency to be "like a witness."
That stance worries the ACLU's Walczak, who argues the public can't possibly assess the validity of an investigation conducted anonymously. "If it's the Acme Plumbing Company, it's probably not worth a lot," he says.
"I'm not aware of any legal reason why they can't release additional information," Walczak adds. "It's not like you could compromise some ongoing part of the investigation."
Other police departments are less reluctant to release details of internal investigations — including that of Madison, Wis., where Cameron McLay, the city's new chief, served as a police captain.
Within three hours of a call from City Paper, Madison police made available an internal investigator and captain who supervises the division in charge of releasing public information.
"During an investigation we don't typically release anything," says Madison police Capt. Sue Williams, who cautions that differences in local and state law make it impossible to compare policies exactly. But "once the investigation is closed — especially if it's a high-interest story — we try to release some information so our public knows what's going on. It's constantly a balancing test."
Madison's police department is more likely to disclose information related to investigations that sustain charges of wrongdoing, as opposed to investigations that result in exonerations, Williams says. But after a 2012 incident where an officer fatally shot an unarmed robbery suspect, the department decided to release video of a witness interview conducted during the investigation to convince the public the department made the right call.
"The decision has to be as transparent as possible," Williams says, "so we can foster [...] trust in our community."
In Pittsburgh, though, the police union's Campbell doesn't think more disclosure is likely.
"It's either confidential or not confidential and I think [...] for these investigations to be effective in the long run, it can't be a public thing," Campbell says. "You can't cut the baby in half."