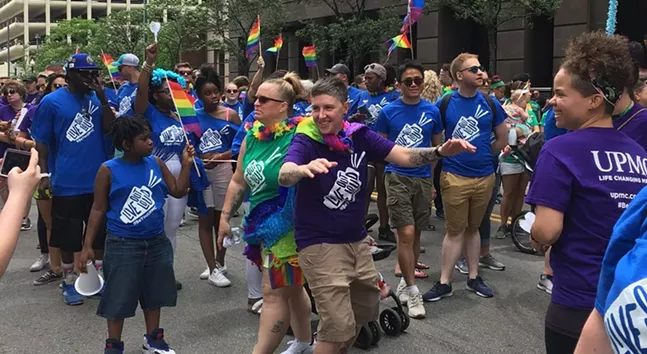 Pennsylvania as a whole still lacks civil rights protections for LGBTQ residents. In total, 30 U.S. states
lack non-discrimination protections
for LGBTQ people.
To help combat this, the City of Pittsburgh signed onto a friend-of-the-court brief in three key
LGBTQ rights
cases to be heard at the Supreme Court.
A press release states that the brief includes nearly 100 mayors and municipalities around the U.S. encouraging the Supreme Court to rule in support of LGBTQ non-discrimination protections in the workplace. The case could determine if LGBTQ Americans are included in the country's civil rights protections.
"No one should experience discrimination because of who they are or who they love," Pittsburgh Mayor Bill Peduto says in a press release. "Our LGBT neighbors and community members make important contributions to our community, and they just want the same thing as every other resident: to raise a family, to make a decent living, and to feel accepted in the city they call home. As Mayor, it's my responsibility to make sure all of my residents are treated with dignity, fairness, and respect. No form of discrimination has any place in the City of Pittsburgh, nor in the United States."
The brief is in response to a case concerning three plaintiffs — Gerald Lynn Bostock of Georgia, Aimee Stephens of Michigan, and Don Zarda of New York — who claim they were all fired from jobs because of their sexual orientation or identity. (Bostock and Zarda are both gay, while Stephens is transgender.) The case — slated to take place next term — will re-examine whether Title VII of the Civil Rights Act of 1964, which prohibits employment discrimination based on sex, also prohibits LGBTQ discrimination.
Part of the brief states, "Local anti-discrimination laws promote the prosperity and vitality of American communities," and cites evidence showing the human and economic benefits of enacting such laws. It goes on to say that specific anti-discrimination protections ensure LGBTQ citizens' "participation in, and contribution to, their communities, enriching both the individual and the whole."
While none of the plaintiffs live in Pennsylvania, the case is significant for the state's LGBTQ residents. Currently, there are
no state laws
specifically prohibiting discrimination based on sexual orientation or gender identity, even as 40 local Pennsylvania governments have ordinances prohibiting discrimination based on sexual orientation or gender identity in employment, housing, and public accommodations, according to the ACLU. Pittsburgh and Allegheny County currently offer
non-discrimination protections
to LGBTQ residents, but in all other Southwestern Pennsylvania municipalities, people can legally be fired or evicted just for identifying as LGBTQ.
But there has been some progress. In August 2018, the Pennsylvania Human Relations Commission (PHRC), the government agency that enforces nondiscrimination law, announced guidelines for handling discrimination complaints based on sex under the Pennsylvania Fair Educational Opportunities Act. The new guidelines basically expanded the term "sex" to mean sex assigned at birth, as well as sexual orientation, gender identity, gender expression, gender transition, and transgender identity.
This means that Pennsylvanians may now file a complaint with the PHRC if they believe they experienced education, employment, housing, or public accommodation discrimination for being LGBTQ.
"This information is to provide clarity to all Pennsylvanians regarding their civil right to equality of educational opportunities regardless of their sex," PHRC executive director Chad D. Lassiter stated in a press release at the time of the decision.
Ross Township
is the most recent municipality in the region to create an Equal Opportunity Board and extend civil-rights protections to LGBTQ people in 2018.