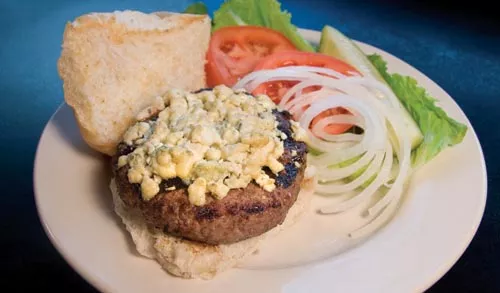 Location:
2019 E. Carson St., South Side. 412-431-1770
Hours:
Sun. 4-10 p.m., Mon.-Thu. 11 a.m.-11 p.m., Fri.-Sat. 11 a.m.-midnight
Prices:
Starters $8-10; burgers $6-8; entrees $9-26
Fare:
Burgers, seafood, and Italian
Atmosphere:
Classy joint
Liquor:
Full bar
Smoking:
Permitted throughout
In the smorgasbord of eating and drinking establishments that is East Carson Street, City Grill is one of the most difficult places to classify. The bar is up front -- the bartender doubles as host -- but it's not a regular stop on pub crawls. The exposed brick and high, black ceiling have a loft-like feel, but hipsters are not in evidence. And with a menu balanced between Italian and chophouse, entrées and burgers, it straddles the divide between restaurant and pub.
The prominence of burgers on the menu is no accident: City Grill's original proprietor was Rich Tessaro. Yes, that Tessaro. And while City Grill clearly has a mission different from that of its Bloomfield cousin, the bustling, friendly vibe bears a family resemblance.
Best of all, we liked a menu that felt little need to pander to its bar patrons. While wings are on offer -- one flavor only -- the seafood antipasto is more typical of City Grill's appetizers. It certainly reflected well on the kitchen. Two baby octopi, three shrimp and four enormous scallops joined a regular ring-toss of sliced calamari atop spring greens dressed in a light vinaigrette. All the seafood was perfectly tender-firm, and the dressing provided light seasoning without obscuring any of the native flavor. The scallops, in particular, were exceptional. Still warm in the center from a quick poaching, they were almost creamy in their smoothness, and their briny-sweet flavor was perfectly balanced.
After such a superb start, Jason was surprised at the perfunctory side salad that came with his entrée. Slightly wilted greens were overwhelmed by onion slices, and a canned black olive seemed out of place so far from a supermarket salad bar.
Veal and shrimp scampi seemed like a perfect grouping of the menu's emphases on veal, seafood and Italian. Super-thin veal medallions were fork-tender, but their mild, brown pan sauce added little flavor. Meanwhile, the shrimp merely reposed on top, with scant flavor of their own and without partaking of what little accent the sauce offered.
Cheese ravioli with marinara offered pedestrian pasta in a simple, fresh-tasting sauce that was well balanced between tomato-y astringency and sweetness. While the ravioli were too soft, the bowties in Jason's pasta side dish were nicely al dente.
Angelique could not help but order a burger. In the "Ultimate Burger," topped with brie and horseradish, the hand that had been so generous with calamari was meager with the brie. Two thin slices weren't enough to adequately top a fat, heavily charred burger. With no other seasoning detectable in the meat, the burger relied on the horseradish -- served on the side -- for zest. The fresh-cut fries were good enough, with a fine, fresh potato flavor, but were a little on the soggy side.
City Grill's surroundings are congenial, the menu choices engaging, and certain selections satisfying. We liked the varied clientele and the sense that there was no predicting who the next patron to walk in the door might be. But at restaurant prices, "good enough" isn't good enough.
JR:
AB: