The race in City Council District 3 figures to be close. The candidates themselves, though, couldn't be farther apart.
click to enlarge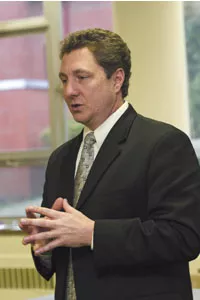 Incumbent Jeff Koch, of hardscrabble Arlington, is a 45-year-old former landscaper and public-works employee. Depending on your point of view, he's either refreshingly down-to-earth or just plain earthy: Throughout a recent interview in his council office, he spat discreetly into a coffee cup after dipping into a tin of Copenhagen.
Challenger Bruce Kraus, meanwhile, is a 52-year-old interior designer living on the burgeoning South Side. He speaks so passionately about "building community consensus" that it's sometimes hard to know where he stands. Ask Kraus how he'd vote on a Koch-sponsored measure limiting bars in the South Side, for example, and he begins, "I'm not going to get into 'Is it a good bill [or] is it a bad bill?'"
This is the second time the two men have vied to represent the unwieldy district, which includes portions of Carrick, southern hilltop neighborhoods like Allentown and Beltzhoover, the South Side, and part of Oakland. Last year, Koch and Kraus squared off in a special election; Koch squeaked past Kraus by less than 200 votes in an eight-man field. This year, he's running for a full four-year term -- with Kraus the only challenger.
click to enlarge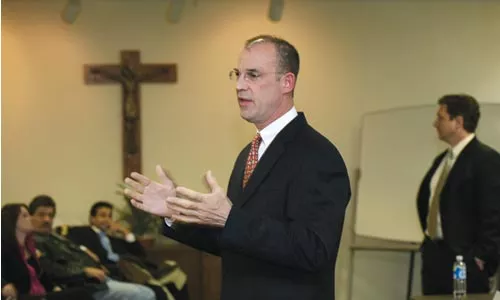 Both men agree the district faces varied challenges: In the South Side, growth is happening quickly, and public drunkenness is becoming more noxious. In hilltop neighborhoods, graffiti and crime are on the rise, and streets are littered with abandoned cars and homes.
Koch says he's making progress: The district has acquired two graffiti-cleaning trucks, for example. But he admits change is slower than he'd like. "It frustrates me to no end," he says. "And it's why I'm getting yelled at now."
Kraus is leading that chorus. "People want to know the simple stuff is being taken care of," he says. But it hasn't been, "and nothing has changed in the past year."
Koch won the Democratic Party's endorsement by nearly two-to-one, a blow to Kraus' hopes to be competitive amongst party faithful. But Kraus has been trying to make up the difference. He has garnered endorsements from progressive groups like the Sierra Club and the League of Young Voters, and by mid-April, he claimed to have "literally knocked on four-fifths of the district's doors."
By that point, Koch had yet to canvas a single street -- though he, too, has reached out to progressives. He signed an environmentalist-backed petition urging caution on the controversial Mon-Fayette Expressway, a proposed toll road that could have major impacts on Oakland. And he prides himself on a hands-on approach to overcoming inertia on problems like the Neville Ice Rink, a long-vacant city-owned facility at the foot of the South Side Slopes. At Koch's urging, the city has issued a request for proposals from bidders interested in revitalizing the site.
Koch says the response to that request should kick-start discussions about the rink's future, though some neighbors have expressed concern at the lack of community input so far. And there are hazards to a go-it-alone approach, as Koch learned after presenting plans to build rental units on the site of the former Arlington Heights public-housing complex. Arlington residents wanted for-sale homes built next door instead, and Koch admits they hated the idea so much that "I just shelved it."
His highest-profile struggle, however, has been trying to curtail the drunken revelry in the South Side. Koch has proposed changing the zoning code to limit the number of bars along East Carson Street, but the bill has faced repeated setbacks: A recent draft, for example, inadvertently applied to other business districts who worried it would hurt development. Koch blames some of the problem on a misleading city map; in any case, the delay means the bill won't come before council until after the primary.
To Kraus, the Arlington Heights controversy shows Koch isn't sensitive to community desires. "The key is community input," Kraus says. "Ask the people what they want." Koch is too chummy with developers, Kraus says, citing his support for an $18 million tax subsidy for a PNC Bank building Downtown. While such subsidies bring the promise of jobs, Kraus says that whenever a corporation makes such demands, "We always roll over."
As for the bar bill, it "wasn't adequately thought through," Kraus says, and even if it passes, bars could circumvent the law just by moving a block or so off the street. Meanwhile, along Carson Street this year, "St. Patrick's Day was pandemonium."
Kraus says the first step is "getting a handle on behavior" with stepped-up enforcement. But Koch "isn't sending the message that this kind of behavior is over" by demanding more enforcement. "It's ineffective leadership."
Police issued only 15 citations for alcohol-related behavior in the South Side that day; by comparison, 88 citations were issued in Downtown's Market Square. Zone 3 Police Commander Larry Ross says the disparity results not from inattention but staffing shortages; in Market Square, he says, the state provided 35 Liquor Control Board officers to help enforce liquor laws. Allocating more LCB officers to the South Side is "something that will be happening in the future," Ross says.
It remains to be seen whether Koch will be around by then. He notes that the Coro Center for Civic Leadership, a South Side-based nonprofit, is surveying several District 3 neighborhoods to gauge residents' development priorities. As for Kraus' Carson Street criticisms, he says, "I guess drinking on Carson Street wasn't a problem until I took office. Give me a break.
"Hopefully people realize how much time things take," he adds. "But I guess we'll find out on May 15."