In March, Cinderlands Beer Co. was running out of beer. The three and a half barrel brewery, located on Butler Street in Lawrenceville, couldn't keep up with the demand.
Expanding seemed a natural choice. So Cinderlands opened a second location in the Strip District called Cinderlands Warehouse. And with the beer expansion, came some culinary growth as well.
Cinderlands Warehouse is an impressive space. It can host 350 people, with dining rooms and bars spread out across two tiers and a massive second-floor patio. A stunning mural by Jeremy Raymer welcomes guests through the front doors. The industrial-chic decor turns warehouse necessities into decoration, utilizing the big pipes and view of steel fermentation tanks to give the building a gastropub feel.
On any given day, there are between eight and 16 beers on tap at the warehouse. The expansion from three and a half to a 15-barrel system closes the gap between production and consumption while providing room for brewers to get creative and explore. For the consumer, it means more beer.
In the two years that Cinderlands has been in operation, the brewers have explored seven categories: hop-driven beers, pilsners and lagers, tartshakes, stouts, fruited sours, farmhouse, and tea and coffee brews. An eighth style, barrel-aged beers, will be added in time (plans for a two-story, barrel stacked wall are in the works). The warehouse is now responsible for the majority of production, though Cinderlands' brewers are still using the equipment at their Lawrenceville location, too.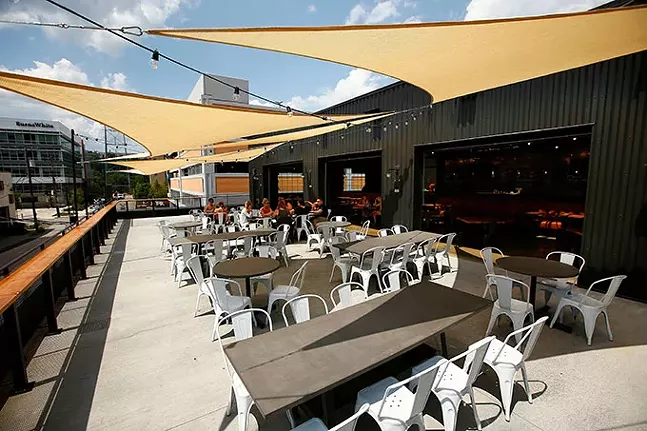 The brewery's expansion has also opened up a larger menu. Though dishes at Cinderlands' two locations are different, executive chef Joe Kiefer maintains his well-known style at each establishment. It's a mix of hearty, old-school Pittsburgh tastes and bold flavors that link classic drinking food to upscale dining.
Kiefer's menu is broken down into six categories. The list starts with snacks, boasting some of the chef's most beloved dishes — spent grain chicharrones and scotch eggs — and then moves through veggies, seafood, plates, and sweets.
Conceptually, everything I ordered was fantastic. There were goat rodeo cheese curds, fit with strawberry romesco and spiced honey, and an adventurous head cheese dish paired with pickled green strawberry mostarda. A chilled pea salad, doused in green goddess with zoodles, crab, and covered in a mountain of parmesan preceded a forest-like mass of chanterelles, grilled peaches, and roasted bone marrow.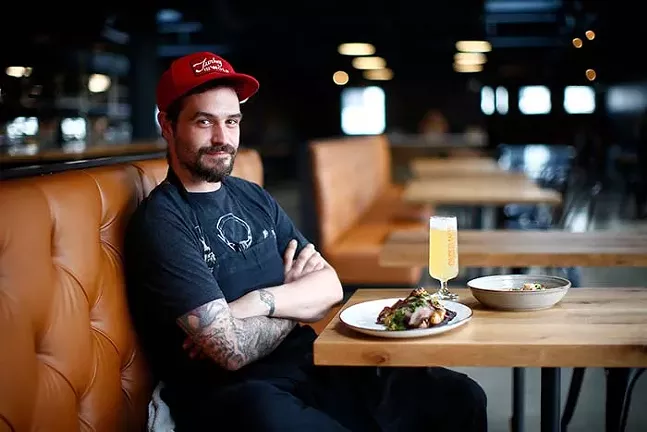 Kiefer's concoctions shone with simple flavors. The chilled pea salad, crisp and in season, was light and filled with small and surprising pockets of flavor. Spicy peppers added a delightful bite to sweet strawberries, the romesco cutting through fatty, fried cheese curds with a pleasant kick.
But the moment a dish lost that simple, clean touch, flavors became cumbersome. A pickled mostarda made a sour match for headcheese. The taste of chanterelles was completely covered by a strong barbeque sauce.
Cinderlands food is a few steps behind the atmosphere, which is extraordinary. When it catches up, the brewery will be a haven for beer lovers in search of pub food that is anything but ordinary.
Favorite Features
1. Crunch Wrap
Who needs Taco Bell when you can get a better version at Cinderlands?
2. Big light bulbs
Imagine a fishbowl. Now, stick some wires in it, and hang it from the ceiling. That's the size of one of the brewery's massive light bulbs.
3. Dad Beer
Beer for dads! (Or anyone else who likes unfiltered brews.)