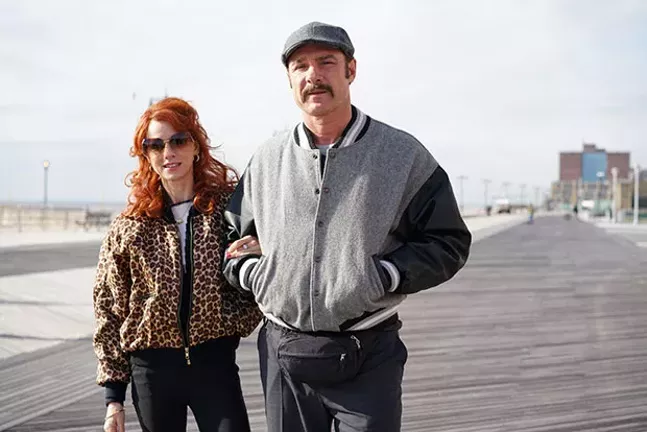 In the 1970s, New Jersey heavyweight boxer Chuck Wepner was the pride of Bayonne; they called him the "Bayonne Bleeder." In 1975, he even booked a title bout with Muhammad Ali, and went 15 rounds. The scrappy working-class pugilist was reputedly the inspiration for Sylvester Stallone's iconic Rocky Balboa.
And now Wepner gets another go at the proverbial 15 minutes of fame in this bio-pic from Philippe Falardeau. Liev Schreiber plays Wepner, with a comic braying brio, who narrates his significant years — from the high point of landing the Ali match through his post-ring lowlights (carousing, domestic strife, troubles with the law).
There are not many twists and turns — this is the classic rags-to-ring-to-retirement trajectory, as foreshadowed by clips of Wepner's favorite movie, Requiem for a Heavyweight. Most of the entertainment comes from the 1970s costumes and sets, and a notable number of recognizable actors lumbered with bad hairstyles and polyester pants. Elisabeth Moss portrays Wepner's long-suffering wife; Ron Perlman is his manager; Michael Rapaport as his brother; Jim Gaffigan as his buddy; and Naomi Watts does a turn as a no-bullshit bartender.
"Real-life Rocky" is a cheat description, but in this case, it's likely true — and the various later chapters don't play as well, or as dramatically. But if you like little oddball slices of (mostly) forgotten history and don't mind a shaggy story, this is a smallish, fun movie. Starts Fri., May 26. Harris