click to enlarge
If you're like most Americans who think about Africa, it's not Nora Chipaumire's Africa you're thinking of. Her sub-Saharan continent isn't all lions, giraffes, deep jungle and thatched-roof village on one hand, and hunger, disease and warfare on the other. And while the residents of Chipaumire's homeland are indeed often subject to the latter depredations, they're not defined by them.
Chipaumire is Zimbabwe-born and city-bred. The internationally famed choreographer and performer came of age during the 1970s, in the last days of white rule in what was then Rhodesia. Her earliest dancing was the urbanized "township" style, and her formative musical influences included Thomas Mapfumo and his band The Blacks Unlimited, who adapted traditional musical styles to a world of diesel engines, concrete pavement and factory work.
The distance between the Africa we daydream and the reality many of its people live is a key to lions will roar, swans will fly, angels will wrestle heaven, rain will break: gukurahundi. Chipaumire's new multimedia dance work, featuring live music by the legendary Mapfumo and his band, visits the August Wilson Center for African American Culture on March 8 for a show jointly presented by the Center and The Andy Warhol Museum.
Chipaumire is familiar in Pittsburgh. She's a former member of the famed Urban Bushwomen troupe whose riveting solo show Chimurenga -- an hour-long multimedia evocation of life during Zimbabwe's second war of liberation -- was a highlight of the 2007 arts season. In 2009, she returned to create Becoming Angels, a striking new work she set on Dance Alloy Theater.
Lions will roar premiered five months later, in Chicago. The show features Chipaumire and dancer Souleymane Badolo performing to the pulsing Afropop of Mapfumo, three electric guitarists and a percussionist. The show also features projected video by animators Romain Tardy and Joelle Dietrick.
"This is a dance about loss, grief, displacement, trauma and a confrontation with those African brands that we have become complicit in selling, consuming and perpetuating," says Chipaumire in an artist's statement. Artists including choreographers, she says, traffic in such stereotyped African "brands" as poverty, violence and backwardness, run alongside a touristic highlight reel of wildlife and exotically costumed people.
click to enlarge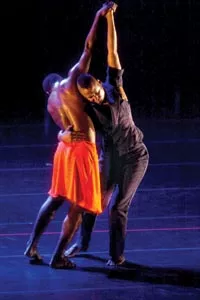 "It's easy, it's like tourist art, airport art," says Chipaumire by phone from the University of Maryland, a tour stop for lions. "You don't have to reveal yourself too much. You don't have to sacrifice too much and you can make maximum amount of profit from it."
Chipaumire wants to explore "what Africans think of themselves."
"People from those places see themselves as just ordinary people who have loved, who have fears, who have desires," says Chipaumire. "I was trying to get away from the stereotype, and look at the person."
Chipaumire's own story is informed by Zimbabwe's political history: A long struggle against white rule culminated in independence in 1980. But the dictatorial regime of Robert Mugabe spiralled into economic disaster even as life became uncomfortable for artists and political dissidents like Chipaumire -- who moved to the U.S. 20 years ago -- and Mapfumo, a vocal critic of Mugabe who fled here a decade later.
"My mother lives in Zimbabwe," says Chipaumire. "The minute I say it's about my mother, I think people see the difference. It's not about Mugabe."
While Badolo is from Burkina Faso, the musicians are exiles as well. "They too brought that anxiety," says Chipaumire, herself based in New York. "Their families are there and they are here. They brought that combined thing of survivor's guilt."
Meanwhile, lions recalls home as urban -- the "visual, aural and kinesthetic equivalent of Africa's great cities: Kinshasa, Jo'burg, Dakar, Lagos," writes Chipaumire.
The assumption that because she is African she makes "traditional" art "continues to be the bane of my existence," she says. "I have to then say, 'No, I actually grew up in the city!' And there is a whole urban tradition which is closer to me than the rural tradition."
Then there's Mapfumo, the "Lion of Zimbabwe" whose politically charged music is called chimurenga -- "struggle" or "revolution" -- the word Chipaumire borrowed for her earlier solo piece.
"Thomas Mapfumo has been part of my life -- I can't remember when he was not, his music," she says. "He owns all that rural tradition, but then he worked and he lived in the city as an adult, and took the city over. He is very much of both worlds. But his music is completely urban. He found a way to celebrate all the industrialization and urbanization that was happening."
Nora Chipaumire with Thomas Mapfumo & The Blacks Unlimited lions will roar ... 8 p.m. Tue., March 8. August Wilson Center, 980 Liberty Ave., Downtown. $20-30. 412-258-2700 or www.augustwilsoncenter.org