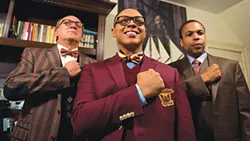 Before the lights dim, the songs of spirit welcome audience members with joyful noise; vows of jubilation; no more crying, no more tears; and the promise that Jesus will save our souls.
Choir Boy promises hope.
Tarell Alvin McCraney's play is set in Charles R. Drew Prep School, an elite boarding school for young African-American men, whose crest features an angry bird and the Latin phrase acta non verba (actions not words). The play focuses on Pharus Young, a promising and overambitious student who struggles over his love of Christ, his love/hate for his mother and his love/hate for four other schoolmates. Pharus is steadfastly dedicated to his school, even risking expulsion when he refuses to name the boy(s) who call(s) him derogatory names.
Sandwiched in every waking moment and movement is his obvious homosexuality, which rears its naked head a few too many times.
Did I say naked?
Not literally.
There are crucial scenes in which the students take showers (which, like the beds, emerge magically out of Lindsey B. Mayer's amazing set). But it's a disservice to the play and insulting to the audience to have them strip to their underwear, then remove the underwear to reveal dance belts.
Moreover, though the play promises hope, its soul seems lost. Somewhere here is a daring, adventurous and courageous exploration of racial inequality, the American-American educational system and gay acceptance … tough issues, melded with riveting a cappella gospel music, delivered with fractious verve. Unfortunately, McCraney ornaments his work with so many stereotypes (including "colored-people time" and the shocking size of black penises) and preaches to the choir so relentlessly that the work's chaotic restlessness suffers.
Still, the acting is solid, buoyed by Tome Cousin's taut direction. As Pharus, Tru Verret-Fleming spills hormones and emotions with reckless abandon; his roommate (and his only true friend), AJ, is subtly portrayed by Lamont Walker. Equally compelling is LaTrea Rembert as Junior, who commands the stage with grace and agility.
In 105 intermissionless minutes, Choir Boy blends self-delusion with harsh reality in its telling of the pain and discovery of becoming a man.
Editor's Note: This review has been amended to correct the misidentification of characters and actors in the original.