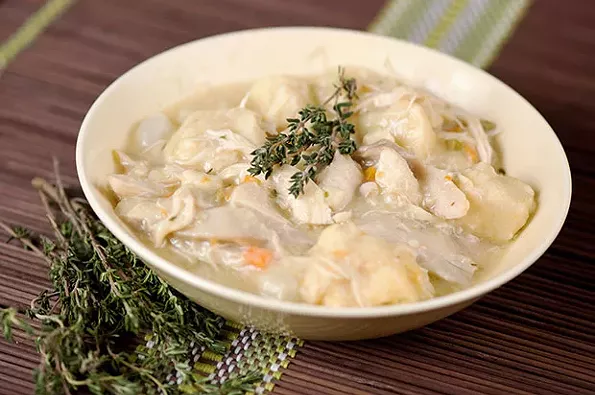 When I really want to make a nice dinner for my wife, Mary, I don't roll out the foie gras and caviar. I make a big pot of old-fashioned chicken and dumplings. All she needs is comfort food to please her Irish-American soul. Nothing complex, nothing spicy. Chicken stock vapors soften the house, making everything warm and comfortable.
Soup ingredients
:
3 or 4 chicken breasts, bone in, skin on
chicken stock
2 cups onions, diced
5-6 cloves garlic, sliced thinly
2 cups diced carrots
1 cup celery, sliced
2 Red Bliss potatoes, quartered
2 tbsp. fresh thyme, chopped
salt and pepper
Instructions:
Place chicken in large pot. Cover with stock and bring to a simmer. Cook until chicken is just done. Remove to a plate and allow to cool. Add vegetables and thyme to stock. Season with salt and pepper. Bring to a simmer. Cook until vegetables are done.

Make dumpling mix (see below). While vegetables simmer, remove chicken from bones and dice. Add to pot. Spoon in dumplings while keeping pot at a simmer. When completed, allow to simmer for a few minutes. If broth becomes too thick, add a little more stock. Check seasonings. Adjust salt and pepper.
Dumpling ingredients
:
6 eggs, room temperature


¼ cup butter, very softened


1½ cups flour


2 tbsp. fresh rosemary, chopped


salt and pepper
Instructions
:
Whisk eggs lightly. Add butter and incorporate well. If the butter is not very soft and the eggs are not room temperature, this will be difficult. There may still be little pieces of butter in the eggs. This is OK. Add flour and seasonings. Stir in gently. Do not over-work the dough. It should be soft and sticky — a little thicker than batter, but not as tight as soft dough. Place a small amount of dough on a spoon. Scrape two or three dumplings into pot with another spoon. When the dumplings float, allow them to cook another minute. Remove and taste. If the dumpling falls apart, add a little more flour to the batter and stir in gently. Adjust seasonings, if desired. Continue to scrape dumplings into pot. I like the size I get when I scrape 4 or 5 off a large tablespoon. Bring to a simmer and cook for a few minutes.