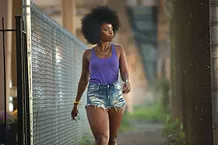 Spike Lee's splendid new movie, Chi-Raq, is disturbingly spot-on: a story of gang violence in a troubled Chicago, released just days after we saw a police shooting there that looks — at least on the video — like an execution.
It's a contemporized riff on Aristophanes' Lysistrata, the ancient comedy about a woman who persuades her sistahs to withhold sex as a way to stop their boos from waging the Peloponnesian Wars. (Spoiler alert: It didn't work.) Lee's Lysistrata (Teyonah Parris) is the girlfriend of the rapper Chi-Raq (Nick Cannon), who also fronts a gang called the Spartans, and she recruits the women of rival Troy as well to stand up for not lying down.
An imaginative tragi-comedy unfolds, laced with performances of hip hop, pop and gospel, laden with metaphor, and played in incendiary Lee-esque style by Angela Bassett, John Cusack, Wesley Snipes (who knew he was so funny?), Dave Chappelle and Jennifer Hudson (in a role close to home). Samuel L. Jackson appears as the solo chorus, pausing the action here and there to ask, more or less: What's in your conscience?
Chi-Raq opens with a rap, the words unfolding across the screen, then rockets into a satire calling for the world of peace and opportunity that Lee dreams might exist some day. He's tough on everyone because everyone's to blame for something, but he's the best kind of optimist, one who sees the real world and taunts us to make it better. And he understands the dilemma: The community mistrusts the police but fears the sanguinary gangs and dealers. So the unarmed Citizen — a victim of both self-hate and racial hate — has no place to turn but to demand a new way of loving.
The acting, writing and direction of Chi-Raq are what we expect from Lee: kinetic, disturbing, stylized and hyper-real with its swooping visuals and neo-storybook look. The characters speak in verse, but the rhyme scheme is more 21st-century than 5th BC ("the big money-maker is the black-suit undertaker").
Lee has made many films about racism, and it's still an issue, but in Chi-Raq, he also chides the black community to take a dangerous leap of faith. A quarter-century ago, in Do the Right Thing, Lee urged people to "fight the powers that be," and his characters took up arms. Now he's telling us to use the power we have, and to open those arms in the widest possible embrace.