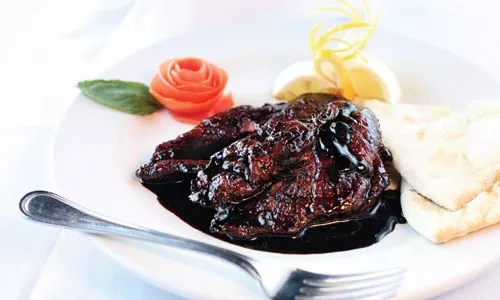 Location:
Pittsburgh Mills Mall, off Route 28, Frazer Township; 724-275-7833
Hours:
Sun.-Sat. lunch 11 a.m.-4 p.m.; dinner 4-11 p.m.
Prices:
Antipasti, soups and salads $5-10; entrées $9-25
Fare:
Traditional Italian
Atmosphere: Casual elegance
Liquor:
Full bar
Smoking:
Designated sections
We're just going to come right out and say it: We don't expect much from restaurants in mega-malls. If context is everything, then how, we wonder, can a restaurant in a mall offer the uniquely conceived, custom-crafted, five-senses-satisfying dining experience we crave? And so we have driven past Pittsburgh Mills on Route 28 countless times without ever wondering whether we should stop there for a bite.
And then. And yet. We heard something that made us slow down, put on our turn signal, and venture into the vast parking lot of this shopping center-on-steroids. We walked through the doorway next to JC Penney in leery anticipation.
The restaurant, Chef Steff's, is far more than a food-court franchise. Chef Steff is Stefano Tedeschi, whose previous venture was at the venerable Cross-Keys, in Fox Chapel. Perhaps you've seen him on TV? He's that rare celebrity chef in a region with precious few.
Steff's newest kitchen serves a three-part restaurant at the edge of the mall. One end faces the mall's interior corridor, with tables open to shoppers for a vaguely sidewalk-café feel, while the other end, accessed via the door from the parking lot, is a tall, dark bar with wood paneling and live music a few days a week. In between is a handsome, high-ceilinged dining room, warmly appointed with clay-colored panels offsetting buttery walls and copper-colored upholstery.
The menu, at first scan, may look like a typical Italian selection, but closer examination reveals the hand of a chef with personality. Leeks, champagne and a nine-cheese blend recur in a variety of preparations, hinting at where Steff has engaged his own specialties with traditional dishes.
We started with two Italian classics, beans and greens (minestra) and sausage and polenta. Both suffered from too much salt. It was the predominant flavor in the minestra, which had few other ingredients (really, it was just beans and greens) or seasonings. In the second dish, salty polenta overwhelmed an otherwise delicious preparation. The sausage is a Steff specialty, a finely ground blend of pork and distinctive spices that creates a brilliant flavor without much heat. It was served with a generous helping of peppers and onions in a tomatoey sauce, all covered with cheese, all crying for polenta that did not upset the superbly balanced flavors.
The kitchen boasts a wood-fired oven for pizzas, including certified Napoli style (using all imported ingredients) as well as Sicilian-style and focaccia. A friend suggested asking for the pizza to be left in the oven a little longer than usual to ensure a crisp, not droopy, crust, and the resulting taste and texture were good. The nine-cheese blend -- the first time we've ever had Gouda on pizza -- was pleasantly complex, but too mild to be satisfying as the only topping.
Jason's entrée of Delmonico steak with champagne and leeks wanted for nothing. A generous serving of beautifully charred beef, still pink in the middle, was topped with julienned leeks that were cooked just beyond the wilting point. The slightly sweet, entirely mild flavor of the leeks was just right to accent such a high-quality steak without distracting from its taste.
Angelique also enjoyed her leek-enhanced entrée, angel hair pasta in pink sauce. The tomato-cream blend was luxurious but light. Finely diced leeks and other vegetables gave it texture and depth of flavor atop the delicate nest of al dente pasta.
We didn't even try to resist tiramisu for dessert. Chef Steff's was neither soaked and soggy nor deeply flavored with cocoa, but fluffy and lightly sweet.
And so, we concluded, perhaps content, not context, is everything. Amidst shopping-center banality, Chef Steff''s passionate flair for Italian cooking has created a distinctive destination.
JR:

AB: