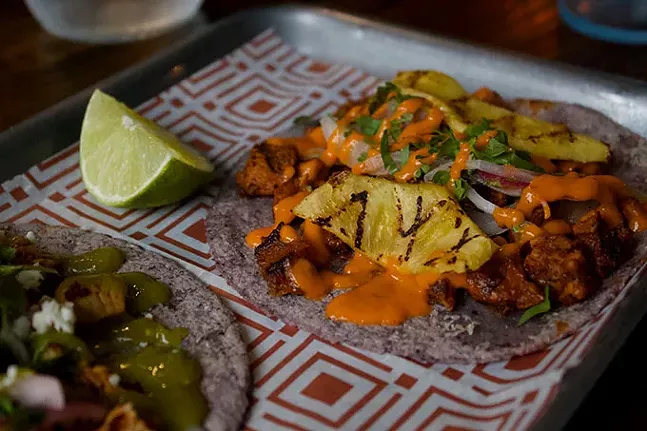 Chef Fermin Acosta's second restaurant is strikingly different from the first, Totopo Mexican Kitchen & Bar in Mt. Lebanon, which celebrates the vibrancy of all Mexican cuisine. The menu at Acosta's new spot, Tocayo, returns to the flavors of his childhood and honors his Purépechan roots, an indigenous people among the first to settle in Central America.
The Purépecha reside in the northwestern Mexican state of Michoacán, often referred to as the "soul of Mexico;" indigenous cuisine has deep roots there. Known for its rustic, homey dishes, Michoacán's culinary culture — traditional dishes dating back thousands of years — is often attributed to the Purépecha people. Acosta's menu is poised around this idea, echoing the comforting, resilient flavors of Purépechan history.
Tocayo, unlike its signature cuisine, is fairly chic. Even the grey paneling outside sporting a stark, indigenous bird image, feels trendy. On the inside, decor mirrors the celebratory, bright nature of Acosta's first restaurant, vibrant walls decorated with garlands for Dia de los Muertos and shelves full of candles. Tocayo is warm, but undeniably upscale.
Tacos make up most of the taqueria's menu, coming in orders of two of the same or mix-and-match. For those looking for something other than tacos, Acosta has a quesadilla, taquitos, dips, nachos, as well as a burrito, naked or wrapped.
Tequila is the menu's other star, though a pepino (cucumber) margarita left much to be desired, a little flat and dull. Twenty varieties of tequila are stocked at the bar, along with seven mezcals. A short bill of cocktails and beer rounds out the list.
To my dismay, all guacamole at Tocayo is prepared tableside. (No matter the subject —cocktails, fish, flambé — I find tableside preparation to be an excruciatingly awkward experience.) But at the recommendation of my server, I ordered it.
Thankfully (all credit to the employee mashing avocados tableside), my experience was smooth and natural. The guacamole was smashed in less than two minutes, the end product well worth any grudge I had towards tableside service. It was fresh, packed with citrus, slightly spicy, and gobbled down in record time.
Of the tacos I tried (there are 11 varieties; I chose four from the mix-and-match option), each was hearty but polished and unlike any taco I had before. Distinct flavors and warm spices added a unique personality to the common dish.
The tacos were built on a single blue corn tortilla, all but spilling over their small wraps. The al pastor was rich in spice, earthy, and sun-ripened. A vegetarian combo of cauliflower and eggplant had more layers than I expected, salsa roja adding a nice kick. Shrimp matched well with the sweetness of fried plantains and mango. But octopus took the crown. It was absolutely perfect: no sign of the all-too-common octopus chew and boosted with a sting from pickled red onions and roasted chile de arbol.

In Spanish, Tocayo translates to "namesake" and it's fitting for Acosta's new eatery. The chef takes cues from a long Purépechan culinary history, transporting himself back "to the kitchens of his childhood," and giving the city a window into Mexican cuisine like they've never had before.


Favorite Features

1. Queso
Don't skip out on dips at Tocayo. The queso, an absurdly simple mix of mozzarella and American cheese, is unreasonably delicious.

2. Chips
A perfect vehicle for all the dips you won't skip: sturdy, warm, and freshly fried.

3. Soup and Salad
All tacos come with a choice of soup or salad.