Luke Cypher didn't want to own a restaurant. After a decade of cooking back-of-house, the chef was tired of hiding behind kitchen walls. He wanted to see his customers and interact with the people eating his food.

Now, Cypher meets his diners face-to-face from the window of his mobile eatery, Blue Sparrow. It's the perfect blend of front- and back-of-house, simultaneously serving and cooking.
Blue Sparrow hit Pittsburgh streets in 2016 from an old Duquesne Light truck Cypher bought on Craigslist. Soon after its debut, Blue Sparrow had a crowd of loyal followers. Cypher was one of the first mobile chefs to bring Asian fusion into the spotlight and Pittsburghers were drawn in almost immediately. Just two years after launching the truck, Cypher was ready to expand. And instead of going stationary, Blue Sparrow added a vintage Greyhound bus to its fleet. The 35-foot, 1950s-era bus is able to hold three times the amount of food, has three service windows, and is outfitted with a tap system for beer collaborations.
Cypher describes his menu as "global street food." The blanket term allows him to "flex his culinary muscle" and tap into all cuisines for inspiration. His menu carries a heavy Asian — specifically Korean — influence. There's made-from-scratch kimchi on the menu every day, along with bulgogi, a traditional Korean barbeque beef. True to his word, Cypher pulls inspiration from all over the globe. A Mediterranean-Mexican infusion, the falafel burrito, sits next to a traditional Cubano and Vietnamese banh mi.
I could have stared at Cypher's menu all day and made no decisions. So, outside of Eleventh Hour Brewing Company in Lawrenceville, where the truck often sits, I let Cypher and his partner take the lead. The duo gave me four dishes: a ramen burger, banh mi, japchae (glass noodles), and bibimbap (a Korean rice dish).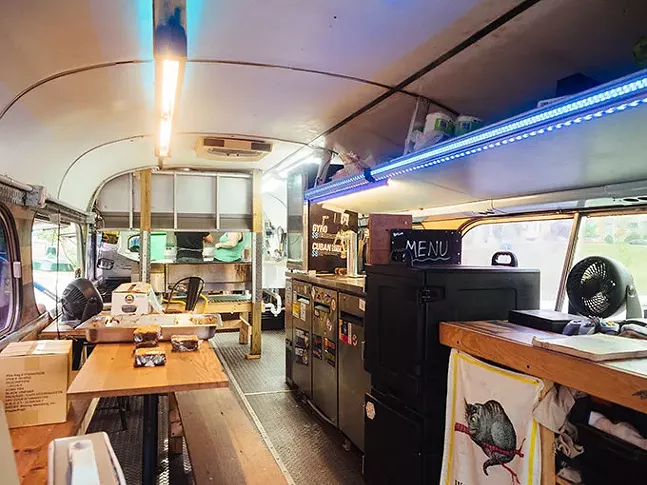 At first glance, I was unconvinced by the ramen burger. I wrongly assumed that it was a gimmick for Instagram, and therefore couldn't taste nearly as good as it looked. But the burger was fantastic. Cypher topped a thick burger with mozzarella, sparrow sauce (creamy garlic miso), mozzarella, and micro greens, then served it between two baked ramen patties. The ramen was better than a bun, because it absorbed some of the juices from the burger and the spice packet (yes, the spice packet is part of the baking process). Cypher nailed it: the burger made a great picture and had the taste to match. The bowls — one spicy and one sweet — were topped with vibrant, pickled veggies and fresh herbs. The banh mi, filled with pickled carrots, cilantro, spicy pork, and cucumber, stood out on Cypher's handmade focaccia.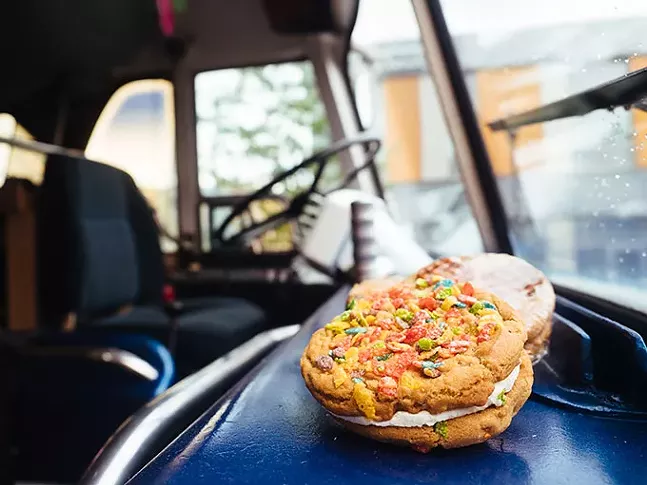 Today, Blue Sparrow is a little less mobile than it used to be; the eatery is locked in a semi-permanent spot at Eleventh Hour Brewing. This, to Cypher, is what running a food truck is all about. He doesn't want people looking for Blue Sparrow because it's convenient, he wants people to come back because of his food.
Favorite Features

Desserts
Cookie. Sandwiches. No need to say more.

2. Sparrow Sailors have historically tattooed themselves with sparrows to represent the journeys they've made. Blue Sparrow is Cypher's journey.

3. Food truck forever
Though Cypher will "never say never," he has no plans to open a stationary restaurant. Blue Sparrow will remain a food truck indefinitely.