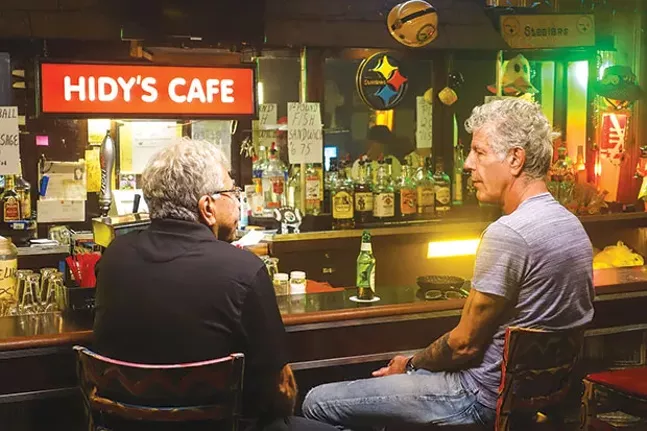 It was always inevitable that Pittsburgh would end up on Anthony Bourdain's CNN travel show Parts Unknown. The city has all the elements that make for a compelling stateside episode: complicated history, economic rise and decline, racial tension, and regional food.
Despite being a religious viewer of the show, I was skeptical about it. As an outsider who moved here for college, I feel defensive against the way others more outsidery than me depict the city. Over the past few years, Pittsburgh has become a critical darling for travel writers. More and more (and more and more) articles started popping up about the surprising art in Pittsburgh, or the burgeoning food scene, or the growing tech industry. It's become so common that The Incline news website created a bingo sheet to use each time a new article appears. City Paper's covered the phenomenon this year, accurately dubbing it "Most Listable City." After being cited as such by national magazines, Pittsburgh has adopted the slogan "Most Livable City." But more recently, residents have been asking: Who does livability include? Does it include people who make $7.25 an hour and ride a $2.75 bus? Does it include residents who are displaced by new development? In the episode's intro, which cites the city's changing landscape, Bourdain asks, "Are new ideas saving the city or cannibalizing it? Who will live in the Pittsburgh of the future?"
Bourdain's first stop is to hang with lifelong Italian-American Bloomfield residents. Bourdain gets beat at bocce by a 103-year-old man. A storm rolls in and tragically overturns trays of meats. Next, Bourdain talks with local novelist Stewart O'Nan, who explains that what went wrong with the city is also what went right. "It became attractive to people outside because it's super affordable," O'Nan says. Of course, the more people talk about its affordability, and there more people move in, the less affordable it becomes. This is the blessing and the curse of Pittsburgh's growing tech scene. The way O'Nan sees it, when these new people move in from the outside, they come in "at the top of the food chain," spurring new housing, which upsets some residents. "It's the problem of inclusion and exclusion, right? It's the American problem," he says.
No coverage of changing Pittsburgh would be complete without discussion of its food scene. And no one has ever discussed Pittsburgh's food scene without mentioning Justin Severino, chef and owner of Lawrenceville restaurants Cure and Morcilla, and Kevin Sousa, chef of Braddock's Superior Motors. Severino explains to Bourdain that although his Lawrenceville neighbors weren't happy about the gentrification partly embodied by Cure, changing the neighborhood was never his goal. "Cure was all about satisfying me. One hundred percent," he says. While Sousa's restaurant works directly with the struggling community of Braddock, the high-priced, fine-dining restaurant again raises the question "who is this for?"
Without spending too much time indulging culinary egos, Bourdain moves on to the Hill District, a critical component of Pittsburgh history, as well as an example of its current and future pitfalls. He meets Hill District native and Pittsburgh Public Schools board member Sala Udin. As Bourdain lays down stats about racial disparity in the city, they drive through around the Hill, eventually going past PPG Paints Arena. As Pens fans crowd the sidewalk around the arena (it was filmed during Stanley Cup week), Udin points out that the arena sits on a piece of land that was once part of the Lower Hill District before the city's 1950s revitalization displaced 8,000 people, including Udin. The image is a stark reminder of what "revitalization" really means, and who it intends to help.
To close out the episode, Bourdain travels outside the city to New Alexandria, in Westmoreland County, for a demolition derby. Bourdain calls it "good heartland fun," seemingly unironically, as the camera pans over a crowd featuring a couple of Confederate flags. He suggests that the people of de-industrialized Western Pennsylvania can come together and forget their troubles with some nice, destructive fun. But if anything, it just serves as a reminder that there are parts of new and old Pittsburgh that are not welcoming for all.