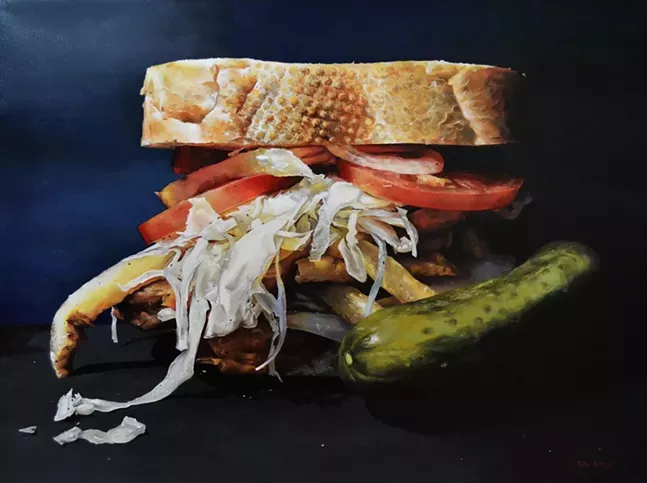 Since it first started over 20 years ago, the Art Festival on Walnut Street in Shadyside has grown from a fun street market to a major Pittsburgh art event. This year, guests can expect 150 national and regional artists working in an array of media.
Presented by the Florida-based juried art show producer Howard Alan Events, the festival – which runs Aug. 24 – 25 – promises to represent "original, handcrafted artwork selected by an independent panel of expert judges from hundreds of applicants."
It's also an opportunity to meet the artists behind every painting, piece of jewelry, sculpture, or photograph for sale. Among them is Jarrod Edson, a 20-year-old local artist with autism, who has committed to donating 30 percent of his sales from the event to three local charities: the Pittsburgh Aviation Animal Rescue Team, the Children's Institute, and the Friendship Circle.
Also showing is Katie Koenig, whose photo-realistic food paintings honor much of the region's culinary history, including Heinz ketchup and Primanti sandwiches.
Some of the featured artists to watch out for are those making functional pieces for the home. Kentucky-based mixed media artist Justin Noelke uses vintage crates, cigar boxes, brass, and other upcycled materials to create practical, yet aesthetically appealing containers. West Virginia glass artist Matthew Butterworth makes unique housewares using old-world techniques.
There are also things to wear, such as fashion pieces from Pennsylvania fiber artist Robert Stadnycki and jewelry by a variety of vendors.
Regardless of where your tastes lie, the festival will offer something for everyone, from the casual art shopper to the serious collector.
Art Festival on Walnut Street.
Sat., Aug. 24, 10 a.m.-7 p.m. and Sun., Aug. 25, 10 a.m.-5 p.m. 739 Bellefonte St., Shadyside. Free. artfestival.com