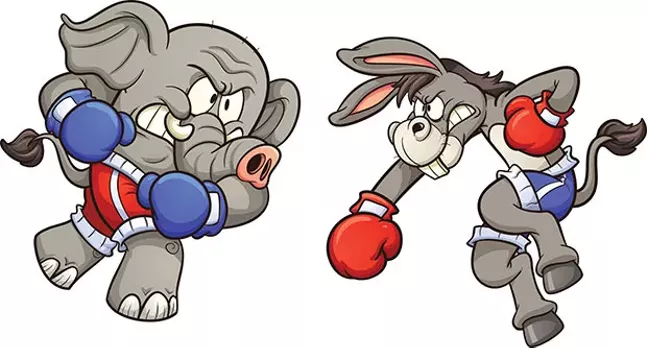 With less than a month to go before our country inaugurates its 45th president, we Americans are preparing to get "tired of winning," like the new administration promises.
Under Barack Obama, Pittsburgh saw some winning of its own as the Penguins bookended Stanley Cups and the Steelers won their sixth Lombardi. Even the Pirates had three winning seasons. The three city championships under the president tie him for most all-time with Jimmy Carter. Our teams do well under Democratic commanders-in-chief who have won Nobel Peace prizes.
But trophies are bipartisan. We've also done well under one-term Republican presidents. George H.W. Bush and Gerald Ford ran the country for a combined six-and-a-half years, and in those respective terms, we won two Stanley Cups, two Super Bowls, a World Series and an NCAA Football National Championship. So for the Steel City's sports teams to do well, Donald Trump has to either switch parties and win a Nobel Peace prize, or be a one-term president.
Andrew McCutchen has played his entire career while Obama was president. We like our McCutchen and hope to keep him. Before Obama came George W. Bush, and our teams hardly did a heckuva job. The only saving grace under George W. was the Steelers Super Bowl win of 2005. The Pens lost the Stanley Cup, and the Pirates tallied a 550-744 record. Nobody misunderestimated the Bucs during those years. Former Steelers kicker Jeff Reed, who has two Super Bowl rings, met the last two presidents. He told me that he liked Bush because he seemed like "one of the guys." He also liked Obama because he was cool in a different kind of way. Maybe Jeff Reed is the guy we need to unite the nation.
The Clinton administration was a disaster for us. It doesn't even depend on what your definition of disaster is. From 1993-2001, we didn't win a thing. Those were heartbreak years, as the Steelers lost a Super Bowl for the first time in history. The Pens and Pirates did nothing. Clinton was elected just 19 days after the Sid Bream slide in Atlanta. It turned out to be a harbinger of the dark sporting days to come under Slick Willie.
George H.W. Bush was very good for our city. In four years, the Penguins won their first two Stanley Cups and the Pirates won their division three years in a row; they haven't done it even once since. That's more parades for us in one term than his son and Clinton combined over a span of 16 years. It was a kinder and gentler time for fans in the early 1990s. The Bushes are split on Pittsburgh sports victories; perhaps down the road, future President George P. Bush will be the tiebreaker.
Ronald Reagan was the absolute worst. Not only were there no victory parades from 1981 to 1989, nobody even went to the finals. In 1985, the Pirates had both their cocaine scandal and a 104-loss season. The organization that won six division titles in the previous decade did nothing. The Penguins did get Mario Lemieux during Reagan's term, but they still had six terrible years under that administration. Even the Steelers were bad. Under Reagan, the Steelers went 59-64 and won four fewer Super Bowls than they had the decade before. The steel mills closed down, and a mass exodus began. He certainly did not make Pittsburgh great again. Luckily, the new POTUS has promised to bring back all the mills.
Jimmy Carter's term was wildly successful for us, if not for him. The Pirates were 83 games over .500 for the 1977-1980 seasons. They even won the World Series, if you can imagine that. The Steelers won back-to-back Super Bowls and compiled a record of 44-18.
Equally good for us was Gerald Ford. Ford was in office only from August 1974 to January 1977. But in that time, the Steelers won their first two Super Bowls; the Penguins had their first winning season; the Pirates had two 92-win seasons; and Pitt won a national championship in football.
Now we wait to see what our teams do under Trump. Will they win bigly? Or will they be low-energy losers, like Jeb Bush?