As restaurants in Pittsburgh have gotten more sophisticated, so has the business of branding. Once the bloodless domain of themed chains out by the mall, the idea of a commercial "concept" that encompasses not only the menu but the tableware and even the attire of the serving staff has become increasingly prevalent among trendy in-town spots. The result has been to subdue the personalities and passions of local restaurateurs behind identities so formulaic, we can almost predict menu and decor from the name and typeface on the sign.
But not always. Chaz & Odette, the latest venture in the old house on Baum Boulevard that was once Baum Vivant (and, more recently, Toast!) is idiosyncratic, even enigmatic. The paired names captured our imaginations: We pictured a French couple, adventurously devouring Paris in the 1950s. Or, perhaps, their dogs, which would, of course, be a bulldog and a poodle.
In fact, Chaz and Odette are the names of the restaurant's co-owners, Charles "Chaz" Smith and Odette Smith-Ransome, and there was not a cartoon dog mascot in sight. Both Chaz and Odette are industry veterans, the former as a private chef and caterer, the latter as a teacher of culinary arts. Longtime colleagues, neither has owned a restaurant before, but together, they decided to take the plunge.
The space — long and narrow downstairs, three intimate rooms upstairs — is bright and warm. It is accented with many black-and-white photos of landmarks, from here and abroad, above a long banquette, as well as drawings of African villages and distinctive window treatments. As with the name, the connecting thread is the owners themselves: Our server volunteered that Chaz is an artist, who created the drawings, while Odette did all the textile work, including the upholstery on the banquette and even the kerchiefs that the servers tuck in their pockets.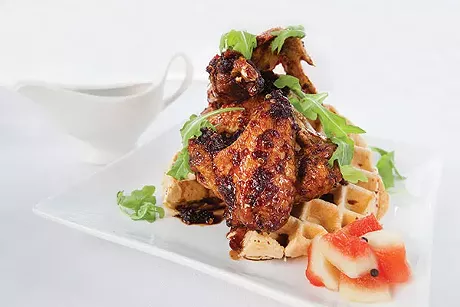 So if the name and decor are straightforward expressions of the owners, how about the food? All we can say is that if Chaz and Odette are as fascinating and well traveled as their menu implies, we'd love to hang out some time. Offerings were current but not clichéd, with inspiration — like the art on the walls — from around the world. European smoked-whitefish crostini, Caribbean jerk pork with yam coulis, Mumbai curried-chicken flatbread and all-American chicken and waffles — make that cayenne waffles, with sriracha-spiked maple syrup — all somehow blended together into a coherent vision of pan-global temptation.
Perhaps nothing exemplified this spirit better than the flatbread list, featuring seven different variations, from Spain, Tuscany, Morocco, Korea and beyond. The toppings all looked amazing, but the transcendent element was the sourdough crust, from a recipe by sous chef Jeremy Zimmer and descended from a sourdough starter named "George." It won a crust cook-off among the restaurant's staff and makes Chaz & Odette's flatbreads as good as, if not better than any on offer in Pittsburgh. The unusual four-cheese combination of aged cheddar, feta, parmesan and smoked gouda worked, covering the various bases of sharp, salty, nutty and tangy flavors, accentuated by a head of roasted garlic in its skin.
A similar cheese combination, minus the smoked gouda, contributed to the success of mac-and-cheese with smoked beef brisket, scallion and panko. Anyone who thinks they have tired of the mac-and-cheese revival need only try this luscious, deeply satisfying dish to be reminded of its potential.
House-cured sausage made a major, meaty impact on shrimp and grits, while firm, plump shrimp paired well with sweet, smoky roasted peppers. Sharp aged cheddar gave depth to the smooth, creamy grits, and a puréed tomato sauce helped tie the elements together.
Charred Brussels sprouts with honey, shallots, pine nuts, balsamic vinegar and shaved Parmesan was well executed but too sweet for our tastes. But garlic-lamb meatballs with yogurt, spinach, farro and walnuts were perfection: finely ground, full of distinctive lamb flavor but completely absent any gaminess.
Unusually for a Pittsburgh restaurant, Chaz & Odette doesn't offer a steak entree; the only entree featuring meat as its main component was the Berkshire tomahawk pork chop, a thick, magnificent cut served on a board with small cups of roasted-garlic dijon cream and apple-raisin chutney. Both condiments were excellent, but the chop needed no assistance. The Berkshire is a heritage breed, and the meat was wonderfully porky, juicy and tender with suitably charred edges.
The food at Chaz & Odette was top-notch, but we also enjoyed the pervasive sense of personality that flavored our entire experience.