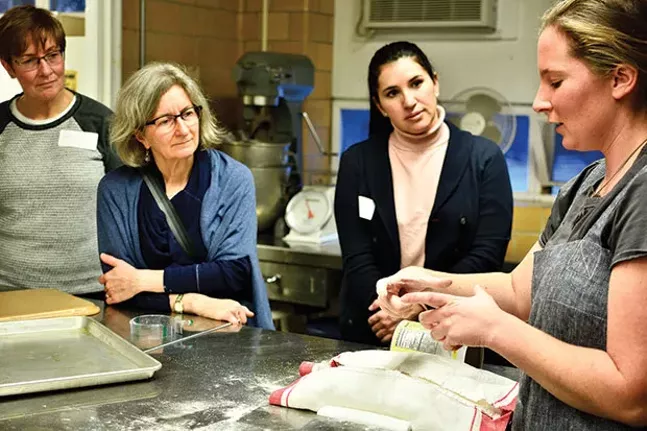 Last fall, Chatham University launched The Center for Regional Agriculture, Food and Transformation known as CRAFT, at its Eden Hall campus, in Gibsonia. Connected with the Master of Arts Food Studies program and the Falk School of Sustainability, the center hopes to provide the community with research and information on food systems.
"We've conceptualized it as an outreach, research and education center that's a hub for information about regional food systems," says Cynthia Caul, the outreach and research coordinator. Caul, along with director Alice Julier, project manager Cassandra Malis, and a number of consultants, part-time employees and students, is working to bring attention to the nascent project.
"I'm excited about people knowing that we're starting this," says Malis. "While this exists in a lot of other regions, there's not an oral-history archive focused on food and art in this area."
CRAFT's approach to gathering and disseminating information will focus on a few different areas and projects. Currently, the center is offering workshops; developing a Western Pennsylvania Foodways Archive; conducting oral histories; and starting to work on food-product development and recipe testing. The center will be collecting data and conducting its own research, but is also aggregating other research and data on the local food system. "There's no real home for that right now in this area. We envision ourselves evolving into that," says Caul.
The Grains Project is one of the two focuses, and is now collecting oral histories, historical documents and hosting workshops. Oral-history coordinator Emeran Irby has completed interviews with purveyors like Frankferd Farms and BreadWorks, and workshops like "Sourdough Bread Baking Basics" and "Cooking With Ancient Grains" are quickly selling out.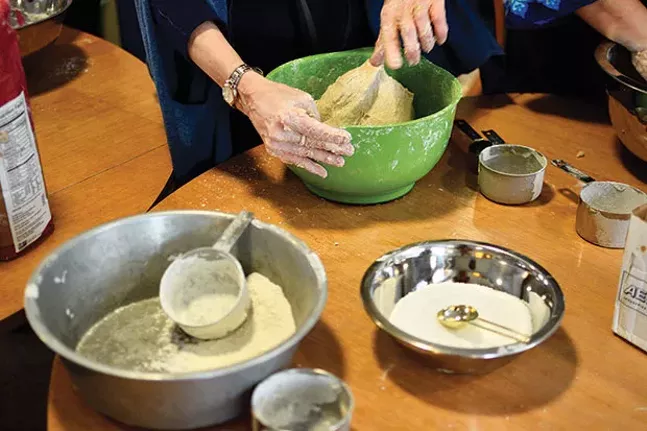 Proceeds from the sourdough classes will go toward the cost of building a bread oven on the Eden Hall campus, where Shauna Kearns serves as the bread-oven coordinator. Having a bread oven on campus will allow CRAFT and Chatham students to expand their research and offerings for the Grains Project, such as the "Babka and Beyond: Bread, Grains and Baked Goods in Western Pennsylvania" study.
The Grains Project is already having an impact locally. A group of students, facilitated by CRAFT, did product-development research for
Tomanetti's
, an Oakmont food business. The group worked with the shop to develop a locally sourced pizza crust. "They worked with Weatherbury Farm to do recipe testing and created a local pizza crust, and now we have a class that's developing the rest of the pizza," says Malis.
Another ongoing project is the Western Pennsylvania Foodways Archive, which exists to collect information about the region's history and foodways into a comprehensive tool. Foodways are the ways in which food intersects with cultural, social and economic practices.
The archive will compile materials such as oral histories, maps and historical documents, especially the histories of underrepresented demographics like women and ethnic minorities. The archive will be open source and publicly accessible to the community. Ideally, this accessibility can provide information in ways that aren't solely academic, making it useful to people interested in food and food systems in the Western Pennsylvania, such as farmers, consumers, food entrepreneurs, chefs, students, other researchers and historians. "We're hoping to have a massive audience," says Malis.
CRAFT hopes workshops, like sourdough-bread baking, will increase community involvement and jumpstart the information exchange between the center and the community. With the growing interest in cooking and foods grown and processed at home, the workshops, taught by local pros like Kearns, have already been well received.
Maya Lantigos, a student in the Food Studies Program, who is a butcher by trade, is teaching workshops on sausage-making and cutting whole fish. Lantigos, who is the first female fish-cutter trained at Wholey's, will teach "Techniques in Trout." The workshop will cover filleting and cooking a whole fish, as part of her thesis work. Her other workshop "Sausage From Start to Finish" discusses topics, such as meat selection and appropriate grinds, as well as nutritional information.
In all of its projects, the center's staff and volunteers are mindful of how they expand. "We haven't specifically defined our region in any concrete terms, because what we view as our region changes and shifts based on the project," says Malis.
Currently, projects are studying Allegheny County and the 10 surrounding counties. Because Western Pennsylvania is uniquely positioned to draw from Appalachia, the Midwest and the Mid-Atlantic, the region can be varied in its influences and innovations. "We see our work being nationally recognized and being useful nationally, and yet some projects could be close to home as well," says Malis.
For more information about CRAFT, visit craft.chatham.edu.