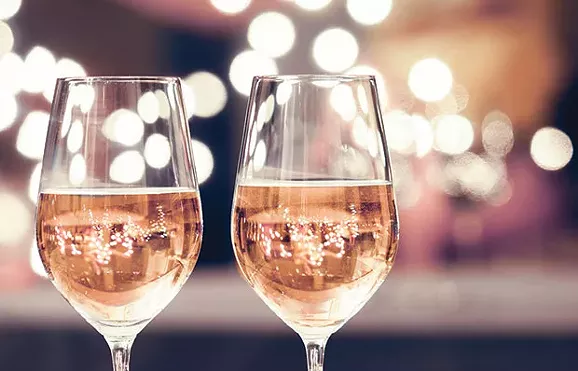 Our culture relegates sparkling wine to special celebrations. It's bubbly, delicious and people like it because the joyful little lift goes straight to the head. It is seen as fancy but not snobby, and a little more accessible than wine. However, when you're asked to pick one out, it's hard to know what to look for. I asked Rob McCaughey, a wine-and-spirits educator at Palate Partners and Dreadnought Wines, for a primer to prepare me for the next occasion that calls for a cork-pop.
McCaughey's first criterion involves the fermentation method: traditional or "tank." Sparkling wines require two fermentations: one for the base wine and a second to create the carbonation. In the traditional method, this second fermentation takes place in the bottle, while tank-method sparkling wine employs a tank, whereafter it is bottled.
Traditional method is more labor-intensive, usually resulting in a higher price. It's used for wines like champagne and cava, both of which must be aged a minimum of 15 months and 9 months, respectively. Traditional-method wines tend to be drier, with bready and biscuit flavors, and are easily drunk with or without food.
With a traditional-method sparkler, note whether the bottle is a vintage or non-vintage wine. Vintage wines must be made from the grape harvest of a single year. Non-vintage wines usually blend in reserve wines from previous years. Vintages for sparkling wines are declared only when a year is deemed good enough to merit one, making them rarer and more expensive.
Tank method, faster and more efficient, is used for wines like Asti and Prosecco, as it produces more fruit-forward flavors and larger bubbles, with the option to make lower-alcohol wines. Tank-method wines are best when drunk young, while their fruity notes are still bold.
Now for tasting. Take a sip and hold it in front of the teeth. This will give a good indication of texture. A finer mousse (the size of the bubbles) means that more of the carbon dioxide was absorbed into the wine, giving it a creamier texture. McCaughey also suggests skipping champagne flutes and using white-wine glasses instead. The shape allows more space for the aroma of the wine to gather and reach your nose. Since most of what is tasted comes from smell, the wine will be more flavorful this way.
Lastly, McCaughey doesn't think that special occasions are the only time for some bubbles. "I think it should be drunk year round to be honest."
A few suggestions from McCaughey: From the Pennsylvania Liquor Control Board, try La Spinetta Bricco Quaglia Moscato d'Asti ($19.99), Raventos I Blanc de Nit Cava ($26.99) or Ruinart Blanc de Blancs Non Vintage Champagne ($59.99). From Dreadnought Wines, try Monmouseau Brut Etoile Cremant de Loire ($15.18), Alessandro Rivetto iPola Moscato d'Asti ($15.93) or Pares Balta Blanca Cusiné Gran Reserva Cava ($36.69).