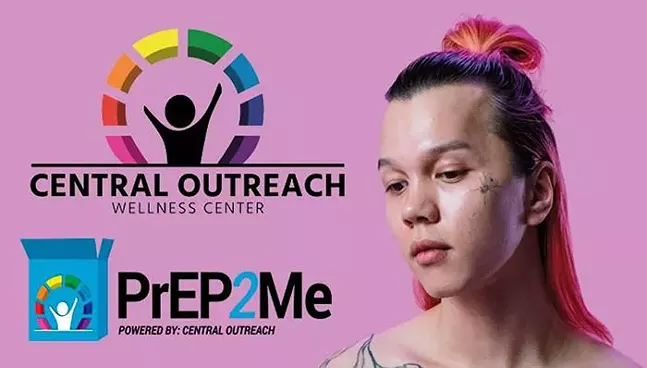 Central Outreach
is proud to introduce PrEP2Me, a new at-home PrEP, STD, and HIV testing service, bringing your health care needs right to your doorstep.
Specializing in culturally competent care for the LGBTQ+ community, PrEP2Me is queer health done your way — convenient and easy! Skip the repeated office visits. Skip the uncomfortable interactions. Just request a PrEP2Me kit to your address online or pick up the phone to call or text, fulfill the labs yourself at home, schedule your telehealth appointment, and send back everything in the prepaid envelope. Voila, you've got PrEP!
Now, you have the power to impact the fight against HIV. Gone are the days of having sex with fear. With PrEP, have the healthy, affirming, exciting sex life you deserve.
Visit
PrEP2Me.com
or simply call or text (412) 844-PREP to get started.
A leader in inclusive healthcare, Central Outreach Wellness Center is founded around the principles of dignity and respect, and that wellness in the community starts by giving everyone access to quality medical care.
With decades of experience, Central Outreach is at the forefront of providing care and support for every kind of client, including those of color, immigrants, and the LGBTQIA community.
Dr. Lane currently has more than 800 patients who are HIV positive and more than 1,400 transgender and non-binary patients.
"A lot of my patients, especially the younger ones, text me or message me on Facebook when they are too afraid to go into a doctor's office," Lane said.
There are roughly 20 million new STI infections every year in the United States, and almost half of all new STI infections are in those ages 15-24. These can lead to serious long-term health consequences if left untreated.
Approximately 1.2 million people are living with HIV in the United States today. Of those, about 14% (or 1 in 7) don't know it and need testing.
With the launch of PrEP2Me, Central Outreach continues this work of serving the LGBTQIA and HIV+ population in Western Pennsylvania. Central Outreach understands the discomfort and fear that often comes with scheduling appointments for PrEP, HIV and STD tests, among other things. These issues affect the gay and trans communities especially hard, and they are often difficult to receive competent and inclusive treatment. PrEP2Me looks to change this. By offering at-home testing with free shipping, Central Outreach is aiming to make these tests safe, affordable, and available for all. Getting this in the hands of as many people in Western Pennsylvania and Ohio as possible can be a gamechanger in preventative HIV treatment, and make our community a more safe, healthy, and dignified place for all.
Just call or text (412) 844-PREP today to request your at-home testing kit through
PrEP2Me.com
and get the sex life you deserve to have.