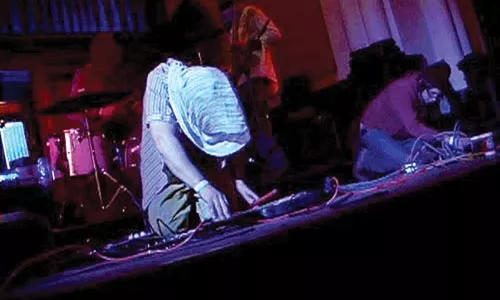 In Pittsburgh, where countless bands tread well-worn formulas, a group that's engagingly unusual has little problem standing out. Such has been the good fortune of Centipede E'est. While that second word -- pronounced "East" -- helps distinguish the band from others simply called Centipede (such as Robert Fripp's 50-piece prog-fusion supergroup from 1971), it also indicates the group's orientation toward the sounds of other cultures, adding it to an already bubbling cauldron of indie and avant-rock influences.
Sure, the band has operated from a considerable scene pedigree since its outset in 2004. Drummer Sam Pace anchored the shambolic Johnsons Big Band and garage-punks Dirty Faces; bassist Caulen Kress was in both Boombox and indie heroes The Karl Hendricks Trio; Jim Lingo fronted punk destructors The Pay Toilets and still jams out in Midnite Snake; and guitarist Nick Fallwell formed the GBV-style rockers Shopping. Yet none of that vast history prepares the listener for Centipede's music, which can veer, in the course of an evening, from straight-ahead groovage to mind-blowing improvisation. And that's exactly what Centipede will do at Gooski's on Sat., Nov. 24, when it plays two sets -- one of songs, one of freeform jams.
Still, don't confuse Centipede with the neo-hippie jam-band scene. Few tie-dyed Grateful Dead acolytes have the depth to draw from the likes of This Heat and Can, Beefheart and Sun City Girls, The Ex and African Head Charge. And tunes such as "Mogadon Dancehall," from Centipede's 2005 release Cheeks of Neptune, with its African pulse and dubby synths, place the band in the fine company of the latest world-rock practitioners, such as The Eternals, Excepter, and Extra Golden.
Since Centipede's formation, two members have journeyed overseas in search of a new way of "vibin' high," as they like to call it. Earlier this year, Kress visited Cambodia. "We were at a temple site away from Angkor Wat, and there was this group of musicians that came out of the woods," he says. "They were all landmine victims, hobbling, some with one arm. But they played this amazing Khmer music. There was a player who could play any scale on an actual leaf. I bought traditional headscarves -- called krama -- and we wear those occasionally onstage."
Lingo's trip to the Sudan (the south, not Darfur) the previous year was even more profound. "I went for a friend's wedding -- he was from the displacement camp there," he explains. "His cousin Mawut had this tape of an early BBC recording of the first Sudanese People's Liberation Army broadcast. There was a badass riff on it was that was played on horns, kind of the national anthem for southern Sudan. We used that riff, and another Sudanese friend who lives in Pittsburgh sings on it. We're going to put out that record [the New Sudan EP] in the spring."
But lately, the group's energies have been focused on the four-song vinyl EP Surf Licks and the Wall of Sound for World Peace (sense a nautical theme?) with cover art by Jeff Schreckengost, of Ludlow. The EP, which comes out this weekend as a prelude to their next full-length, planned for 2008, was tracked in the rehearsal studio on the second floor of the North Side's New Hazlett Theater by the band's fifth and newest member, Johs Tanzer, a multi-instrumentalist and San Fran-to-'Burgh retransplant.
"We had the opportunity to record each song before it's structured, so in many cases, we got to make up the structure right then and there," says Fallwell.
"It's nice, because in all of the stuff we've recorded, it's always challenging and new," adds Lingo. "Each song has a different feel, touching on a different type of music that we like."
Centipede's wide-ranging sound and experimentation also allows the band to appear in a variety of settings, from normal rock clubs to an Arts Festival gallery opening or a recent extended two-hour night-time Krautrock session by the river in Braddock, while glowing hot steel was poured and revelers were shooting flaming arrows into wicker men.
The band's ability to accompany such a primal, ritualistic experience makes for great mushroomy music, both drivingly intricate and ecstatically jumbled at the same time. They're not a drug band, but probably come off rather well with a few choice substances. "We're all on a different 'one,'" Pace jokes, "and we don't know where that one is, sometimes. It makes for some 'outerlocking' parts in the songs."
"Yeah," agrees Falwell. "We're like the Beatles of noise boogie."
Centipede E'est EP Release with DJ Paul Quattrone. 10 p.m. Sat., Nov. 24. Gooski's 3117 Brereton St., Polish Hill. $4. 412-681-1658