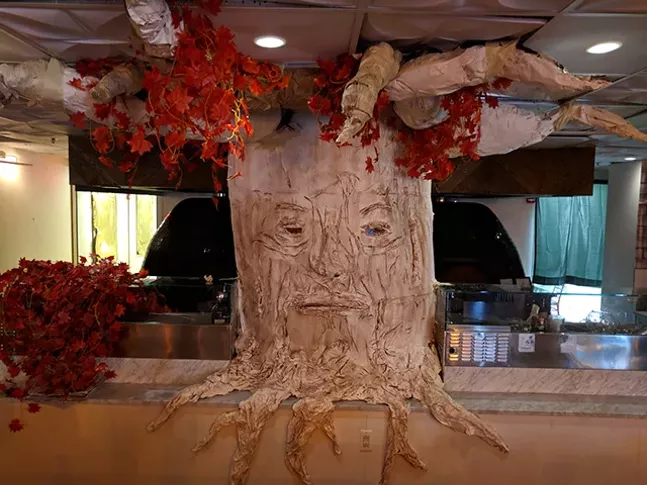 Spoiler alert: this story contains many references to Game Of Thrones across all seasons to-date.
A week past St. Patrick's Day, Clover Bar was still glowing green. It was the bar's last sign of the holiday, as it was stripped bare and transformed into something new. As the holiday faded, winter started to rise: a Game of Thrones bar was coming to Pittsburgh.

This new pop-up is part of a rotating concept put out by MW Hospitality group, who, since November, has been tearing down and rebuilding themed bars in a space near Market Square. It's an elaborate, fast-paced renovation each time, moving from holiday to holiday with lightning speed. So far, the revolving bar has made its way through Christmas and Hanukkah (Jingle Bar), Valentine's Day (XO Bar), and St. Patrick's Day (Clover Bar). Now, it's taking on the Seven Kingdoms.
The Game of Thrones (GoT) bar is an all-out tribute to the popular TV series, from decoration to cocktails. It coincides with the premiere of the show's final season on April 14.
Creating a GoT bar is no small feat. Other holidays are open-ended, as bar manager Shane Wilps puts it, Christmas is all "colors and gifts." A little bit of wrapping paper and a few ornaments later, the bar is complete.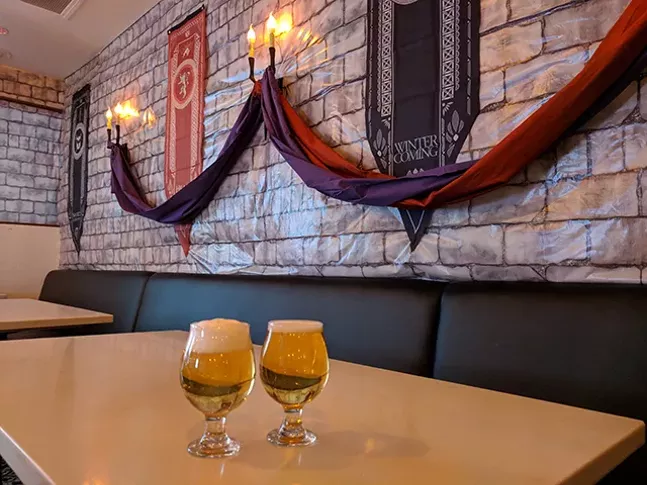 GoT, on the other hand, is intricately detailed; Wilps is going for it, no-holds-barred. He's working with local artists to create monstrous, magnificent decorations. A dragon will hang from the ceiling in front of a pillar converted to represent the Wall of Faces. On one side, Westeros will be fully drawn out, accented with flame-flickering lights. Down the hallway is The Wall embellished with turrets and crows, the path to the bathroom marked by icicles and ravens. House banners will fly high, not to be outdone by the Iron Throne that gazes over the crowd from the front.
For the menu, Wilps is working with Ommegang Brewery and its line of GoT-themed brews, along with Johnnie Walker's White Walker-themed spirit. The cocktail menu lists concoctions like, "Red Wedding," "Drogon," and "Wildfire."
The GoT bar will be open for the show's entire season, starting April 5. Every Sunday night there will be a screening of the latest episode, other nights will be filled with drinking games, trivia, and giveaways.
After the show ends in May, Wilps will move on to the next concept. There are no hints to what it might be, though he has a few in mind — even joking that old City Papers will make an appearance.