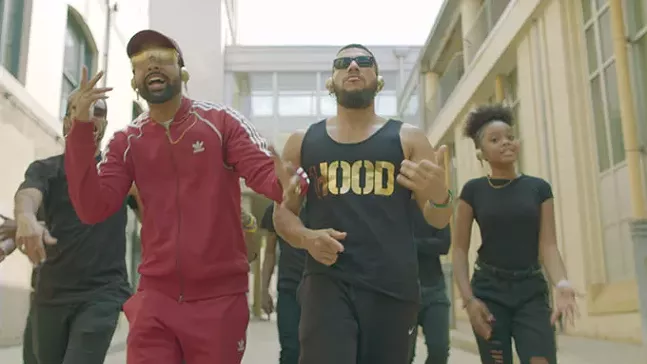 The annual interdisciplinary arts festival wats:ON? was born in the aftermath of tragedy, but now brings a celebration of art, activism, and culture to Pittsburgh every year. The festival was founded in the memory of Jill Watson, a Carnegie Mellon University alumna of the School of Architecture and later an adjunct faculty member, who died in the 1996 TWA Flight 800 crash, which killed all 230 passengers. The festival was founded with a grant endowed to CMU by her family to both bear her name and celebrate her commitment to the arts and her transdisciplinary philosophy as an artist.
The festival returns for its 22nd year on Thu., Nov. 7. Each year, organizers come up with a different interdisciplinary theme, mixing the arts which things like technology (2010's wats:ON? VIRTUALITY), sound (2013's wats:ON? NOISE), and perception (2017's wats:ON? SHIFT). This year is wats:ON? NOW.
"NOW. directs us to the present; the period is intentional, with solid and emphatic punctuation included in the title to drive the point home," says wats:ON? curator and artist director Spike Wolff, who took over in 2009. "NOW. takes on the spirit of activism, with artists and work tapping into the zeitgeist of our current climate to redirect culture."
After deciding on this year's theme, Wolff and the other organizers started reaching out to local artists to build an event around those two elements in a loose, organic process.
"The artists participating in 2019: NOW. create work addressing issues that are culturally and contextually relevant in powerful and poetic ways," says Wolff.
On the wats:ON? NOW. lineup is artist and activist Jasiri X, the founder and CEO of 1Hood Media and "the first independent hip-hop artist to be awarded an Honorary Doctorate, which he received from Chicago Theological Seminary in 2016." Jasiri will put on a TED-style talk, mixed with spoken word and music to share his views on hip-hop, race, privilege, and politics.
"It's going to be a fluid, engaging, dynamic talk/performance," says Wolff.
In addition, Jasiri worked with Blak Rapp M.A.D.U.S.A. and CMU students enrolled in the wats:ON Festival CFA Interdisciplinary course to create an original music video, titled "Speak No Evil," that will debut at the festival.
"It's very politically charged but very catchy," says Wolff. "A lot of our artists are pulling double duty and doing two different things, sometimes three, like with Jasiri and Blak Rapp, performing, working on a music video, and a talk and play [respectively]."
Along with the music video and a musical performance, Blak Rapp, a rapper, poet, activist, and historian, will also be performing her one-womxn play Mary's Daughter: Memoirs of an Artivist. While most of the content featured in the festival is original, Memoirs of an Artivist has been performed in various cities, along with the Kelly Strayhorn Theater a few years ago.
"It's adapted over time, so it's not the same performance and Blak Rapp is definitely adapting it again," says Wolff. Following the play will be a discussion about activism.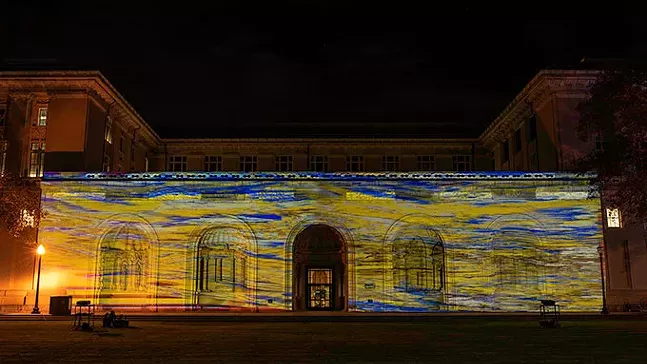 And then there's Mendi and Keith Obadike who "work collaboratively to make music, art, and literature, creating ethereal works rooted in African-American and African cultures, that address timely and relevant issues in beautiful and powerfully poetic ways." The pair have a Book of Light sound-light performance scheduled for Friday (weather permitting) that works in conjunction with the facade of the College of Fine Arts building. A projection has been mapped to fit the surface, meaning they geometrically accounted for sculptural niches and stitched it together with video that will run in tandem to live music performances, with Mendi singing and Keith on percussion.
The weekend closes out with a reception in CFA Great Hall and musical performances by Jasiri, Blak Rapp, and 1Hood Media, a "collective of socially conscious artists and activists who believe that art is the best way to challenge inequity, raise awareness, and unify humanity" for a hip hop dance party.
"It's going to pull people not just from the College of Fine Arts but hopefully people from outside of that and the Pittsburgh community too," says Alexis Morrell of the CMU communications/marketing team. "The artists that [Wolff] chose are very active in their community, and I'm excited to see who it brings."