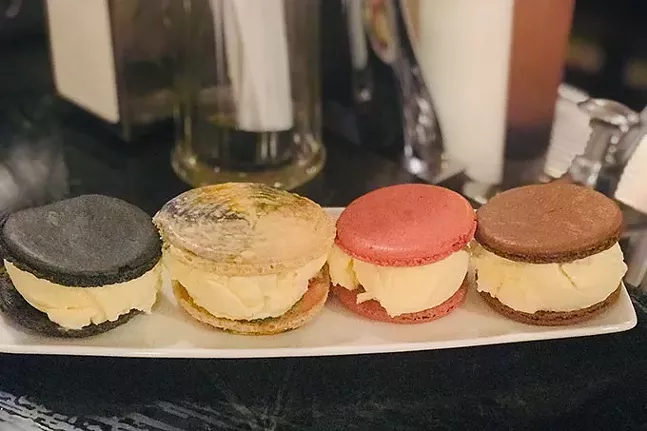 Today, the sweet combination of cookies and ice cream is getting the credit it deserves. It's National Ice Cream Sandwich Day.
Ice cream sandwiches are having a moment in Pittsburgh, all thanks to Leona's Ice Cream Sandwiches; the local, small-batch, lactose-free creamery took ice cream sandwiches from an after-school treat to an artisan dessert. In partnership with Very Local Pittsburgh and Arnold's Tea, Leona's is throwing a party for their signature treat. on Sat., Aug. 3.
Leona's created two special flavors for the celebration: strawberry pretzel salad (available that day only) and Perry berry, the first sandwich in their artist series. Perry berry, a black raspberry ripple strawberry shortbread cookie sandwich, was created in collaboration with North Side painter C.B. Perry.
There will also be a chance for customers to create the next Leona's flavor; design your dream ice cream sandwich and co-owners Katie Helstab and Christina Puskarich will choose their favorite creation to turn into a real, Leona's-stamped sandwich.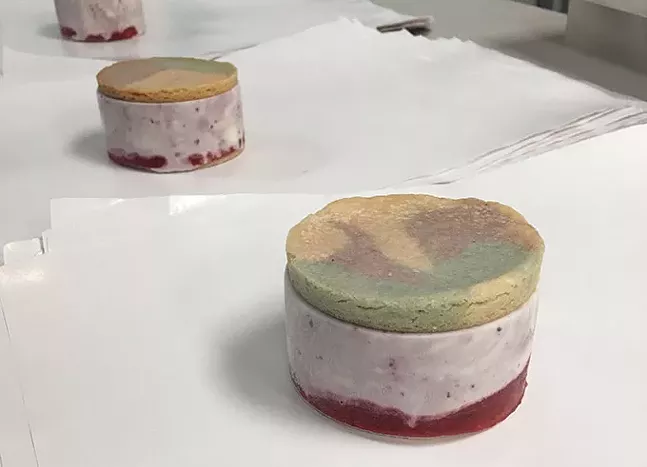 Helstab and Puskarich aren't the only ones joining in on the ice cream fun. Klavon's Ice Cream Parlor in the Strip District has teamed up with Risa David to create macaroon ice cream sandwiches. For the traditionalist, the parlor is offering freshly-baked peanut butter cup, macadamia nut, and sugar cookies to host a scoop or two.
Or, celebrate the holiday at one of the city shops that offer their sweet sammies year-round. Sam's in the Strip sells only ice cream sandwiches, stuffing the homemade cookies with gelato or ice cream. Handel's Homemade Ice Cream uses Oreo wafers to bookend their ice cream; Millie's Homemade Ice Cream opts for a warm brioche bun.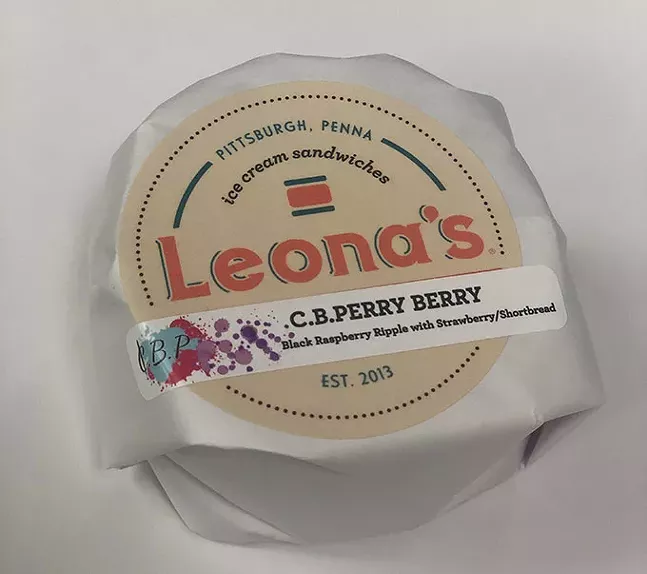 Though these pre-made creations are undeniably delicious, why stop there? In that spirit, we created a list of five ice cream sandwiches that don't exist, but should (hint, hint).
Think we missed one? Tell us your fantasy ice cream collaboration.
Bitter Ends Garden Luncheonette and Page Dairy Mart
Bitter Ends has fresh doughnuts every morning. Pair any flavor with the sweet-but-not-too-sweet soft serve from Page's. It's the breakfast of champions.
Madeleine Bakery and Bistro and Glen's Custard
Imagine this: rich, creamy custard between a light, lemony Madeleine.
350° bakery and Rivendale Farms
There's nothing better than the thick, cheesecake striped brownies made by 350° Bakery. Cut that brownie in half, warm it, and put a scoop of creamy, light Rivendale ice cream in the center.
Good L'Oven and Mercurio's Pizza and Gelato
The steel city crunch cookie from Good L'Oven is in a world of its own. It's a brownie and chocolate chip cookie wrapped into one, rolled in caramel and cocoa crispies. Picture that with a huge scoop of Mercurio's gelato.
Wolf Teeth Doughnuts and sugar Spell Scoops
Take one of Wolf Teeth's giant cinnamon rolls and throw Sugar Spell Scoops vanilla latte ice cream in the middle and you've got a plant-based dream.