Adam Hart is not from Pittsburgh, but he credits one of the city's notable filmmakers, George A. Romero, with influencing his interest in film, particularly the horror genre.
"His movies were the first horror movies that I started thinking about seriously," says Hart, a Washington state native who now serves as a visiting assistant professor of film and media studies at the University of Pittsburgh. "These are films that have a lot to say."
Hart will help spread that appreciation all October for the latest installment of
Romero Lives!
, a citywide celebration of the late director's legacy. The event, which launched last year as a way to commemorate the 50th anniversary of the release of
Night of the Living Dead
, returns with what Hart believes is the biggest retrospective of Romero's films ever held in Pittsburgh.
This includes the premiere of Romero's lost film
The Amusement Park
. Shot in the now-defunct West View Amusement Park in the North Hills, the 1973 film was originally commissioned as an educational look at caring for the elderly, but in Romero's hands, became what a press release describes as "an allegory about the nightmarish realities of aging in a world without an adequate social safety net."
"It's a really strange and remarkable film," says Hart, adding that Romero clearly saw the project as an "opportunity for total creative freedom."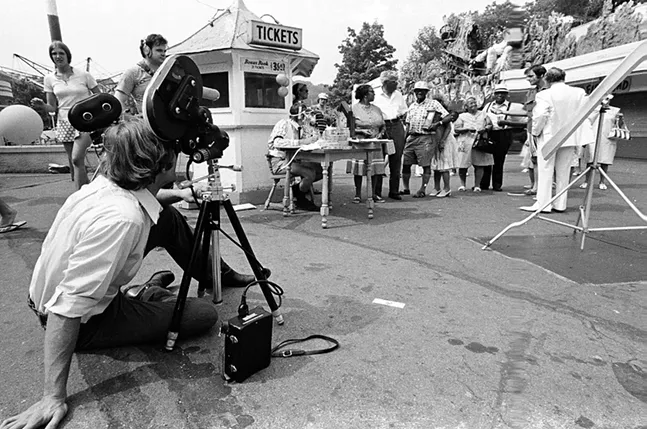 Organized by the George A. Romero Foundation, Romero Lives! officially kicked off in late September at the Living Dead Weekend held in Evans City, Pa., where part of
Night of the Living Dead
was shot. It continues from Oct. 11-20 with a comprehensive schedule of screenings at the Regent Square Theater.
"It's an opportunity to see as much of [Romero's] catalog as we can present to the city to see it in a communal setting at a really great neighborhood theater," says Hart.
The will also be 3D screenings of
Dawn of the Dead
from Oct. 25-26 at the Carnegie Science Center.
The schedule will span Romero's early career making commercials and industrial and short films, his
Living Dead
series, and his Hollywood films like
Creepshow
, as well as his more obscure films. The screenings will also feature appearances by Romero's family and collaborators, as well as film scholars and archivists from Pitt.
The offerings extend beyond horror with a discussion led by former Steelers player Franco Harris, who became friends with Romero after they worked on an episode of the 1970s TV sports documentary series,
The Winners
. The two remained close, even attempting to collaborate on a Bigfoot film starring Harris as the monster.
The month-long event will also highlight the Pitt University Library System's acquisition of the
George A. Romero Archival Collection
, a virtual treasure trove touted as the world's first archive dedicated to the study of horror and sci-fi film. On Wed., Oct. 23, Pitt will host Living with the Dead, a gala at the Hillman Library where guests can view posters, behind-the-scenes photographs, props, screenplay drafts, letters, and other items from the archive.
Hart believes there's no better place for Romero's archives and films to be on display than in Pittsburgh, as much of the city's film industry, he says, can be traced back to the director.
"There are just so many people in film in Pittsburgh who feel like George touched their lives in some really substantial, important way," says Hart. "And the more research that I do into his career, it's clear that he adored Pittsburgh."
He goes on to describe Romero's vision of building a "Hollywood on the Mon," and how his films reflected his love of the city and its culture. This included combining what he calls "working-class aesthetic with important ideas," adding that, compared with monsters like Dracula, the masses of zombies represented common, everyday people to which viewers could relate.
"He wanted to talk to the kind of people who he grew up with and was friends with in Pittsburgh," says Hart. "He was simpatico with the city not just because he liked living here, but because he saw himself in everybody around him. For him that never meant you couldn't be smart, that you couldn't have something important to say."
Pittsburgh City Paper
will also pay tribute to the legacy of Romero this month with
31 Days of the Undead
, a series of reviews and essays about zombie media. Look for new posts going up every day from now through Oct. 31.