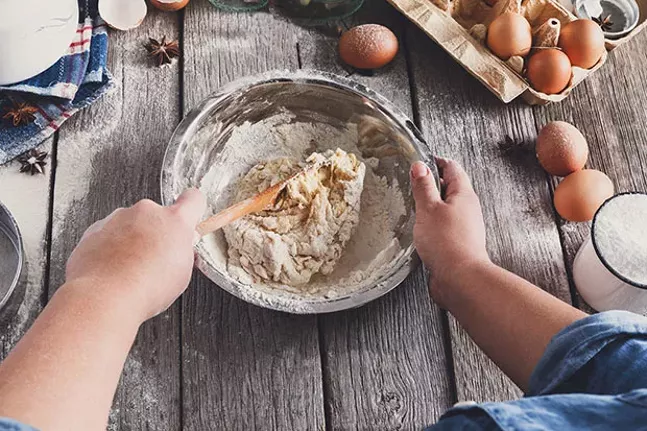 When I was 4, I walked into the kitchen to sit next to my Giddoo. From a red plastic serving tray, I grabbed a cracked green olive the size of the palm of my hand. I held it with the tips of my fingers and began to take bites around the pit as with a peach. Salty, oily brine glossed my lips, and the bitter finish stayed on my tongue.
Giddoo sat pleased by the mature palate of his granddaughter, for few of the other grandchildren devoured olives as if they were chocolates. The secret was, I did not like the bitter, brined drops. I ate olives for the pleasure of my grandfather's praise.
Similarly, every year I found myself stuffed with anise-laced donuts, throat tingling and yet determined to celebrate my Sithoo's early-morning frying marathon. I thought I was subjecting myself to a minor allergic reaction when, in truth, anise is an excellent remedy for a sore throat, and the resulting numbing effect is natural.
Jan. 6 is the Epiphany, the celebration of the baptism of Jesus and of the arrival of the Magi. In the Maronite Catholic tradition, this shower of blessings is celebrated in many ways, one of which is the purest expression of merrymaking — zelabia, or fried dough. Now, I not only take joy in the expression of my traditions, but in the flavors as well.


Ingredients
5 lbs. flour
4 tsp. salt
4 eggs
3 packets dry yeast
4 tbsp. oil
lukewarm water
1 tbsp. baking powder
2 oz. arak (Lebanese liquor distilled with anise)
2 jars anise extract
1¼ oz. anise seeds
Mix all ingredients together. Knead. Let rise up. Shape into long sticks and twist. Fry in oil. Roll in sugar or dip in syrup when eating.
Atter (syrup)
1½ cup sugar
¾ cup water
1 tbsp. lemon juice
1 tsp. rosewater
Heat sugar and water, stir. Add lemon juice. Boil until the syrup thickens, about 10 minutes. Add rosewater. Remove from heat and let cool.