Vulture
Oblivious to Ruin
(Innervenus)
Snarling, plodding sludge fills the band's first full-length. (Vulture's first EP came out in 2008.) If you're waiting for the fast breakdowns, you'll be waiting a long time; now and then, the band speeds up to a trot, but most of the album is spent downtempo and downtuned. Fans of sludgy, stoner-y doom (think Eyehategod) really ought to get this record.
VULTURE CD RELEASE. 10 p.m. Sat., March 31. 31st Street Pub, 3101 Penn Ave., Strip District. $5. 412-391-8334
— Andy Mulkerin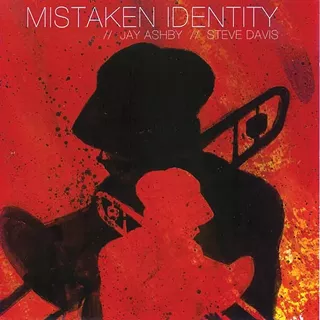 Jay Ashby and Steve Davis
Mistaken Identity
(MCG Jazz)
The title for this friendly set featuring two outstanding trombonists may sound like one for a mystery movie or book, but it's no mystery that these guys know how to make their horns mellow and bright. Their tones and conceptions sound similar, rather than contrasting, hence the unfortunate title. Pittsburgh's Ashby and Hartford, Connecticut's Davis solidly solo and harmonize without driving hard, loping, bouncing, swaying. In the one bossa nova piece, Jay sounds almost as if he were singing, and he lovingly caresses the notes in the only ballad among the ten tunes. Jay's guitar-playing brother Marty has a couple of excellent solos, and pianist David Bryant, a regular in Davis sessions elsewhere, has a few good moments, as do Pittsburgh bassists Dwayne Dolphin and Brian Stahurski and drummer Roger Humphries. Fine arrangements by Duquesne University faculty artists John Wilson and Mike Tomaro add to the reminder that it's no mistake: Hometown Pittsburgh jazz has memorable identity.
— Gordon Spencer
Ghost Estate
No Earthly Thing
(Self-released)
Five-track EP of Irish and Scottish folk with electronic elements, from former personnel of Pancreatic Aardvarks and Narse. Four traditional covers ("The Wind That Shakes the Barley," "Greensleeves," etc.) and one original. It's a weird combination of sounds — wailing guitars alongside violins, synth bass under dulcimer — and definitely unique.
— Andy Mulkerin