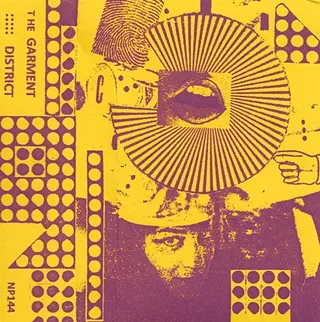 The Garment District
Melody Elder
(Night-People)
Inaugural cassette-tape release from the solo project of Jennifer Baron, founding member of The Ladybug Transistor. Layered synth-and-guitar soundscape work with some haunting vocals courtesy of Lucy Blehar; these are slow-building and disintegrating compositions, complex, weird and gorgeous. Just when it's on the verge of being glitchy, discordant and abrasive, we're given respite in a blanket of layered vocals. Recommended. 
By Andy Mulkerin
Action Camp
Better Made Fast
(Self-released)
Action Camp's influences are myriad, but the two-piece (which relocated to Pittsburgh after several years in the Boston scene) mostly settles on a mix of dark, mysterious surf -- reminiscent of the James Hurley motorcycle-riding scenes in Twin Peaks -- and dramatic electro-pop. On this seven-track EP, which includes three songs and a nearly excessive four remixes, classically trained singer Maura Jacob's rich voice blends with Bengt Alexsander's decade-hopping instrumentation in a nicely unexpected way. Overall, it makes for a damn fine listen.
By Margaret Welsh
John O'Hallaron
Kitty Hawk Surf
(Self-released)
A concept EP of surf rock based around the Chalk Dinosaur frontman's memories of his vacations in Kitty Hawk as a child. O'Hallaron plays all the instruments on this tight and fun record -- a mixed blessing in that it exhibits his talents as a player, but also reflects the flatness that results when there's no chemistry from instrumentalists playing off one another. A good listen nonetheless. 
By Andy Mulkerin