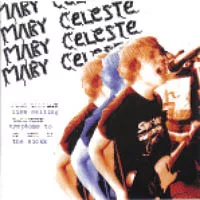 Like Selling Symptoms to the Sick
Yappy Records
Mary Celeste's latest CD, Like Selling Symptoms to the Sick, is an appropriate companion to the local group's first, Our Guernica, even appropriating that debut's title for a song. Again, a handful of explosive, tuneful songs are topped with the jagged shards of interlocking guitars and vocals of Eli Kasan and Stacey Mackin
What Mary Celeste does best, I've always thought, is flirt with trends while staying grounded in older post-punk and hardcore styles. The band's loose rhythm section of Panfilo DiCenzo and Jim Wilson keeps things rollicking without wading too far into punk disco, or the land of guys who wear girls' jeans. Likewise, the proto-emo lyrics -- for all the blood, bleeding, scabs and scars -- never quite veer into the territory of what Vale and Year's Greg Cislon calls "the new hair metal."
Speaking of Cislon, he recorded this disc for the band, also contributing some saxophone squall to the driving "Before the Rain and After the Rain," and keys on the EP's closer, "I've Heard the Thief Whisper to the Thief."
When Mary Celeste released its first, in April 2004, it seemed, to quote "Thief," "a fine time to nail sonnets to the sky, and we'd talk about forever." But all things move toward their end, and local bands are no different: This is the final release from Mary Celeste, and the release show will be its last show. (I know: promises, promises.) So it's perhaps appropriate that the EP closes with the line, "We read obituaries for similarities now."
Microwaves
Contagion Heuristic
Crucial Blast
Not so with longstanding avant-metal sludgemongers Microwaves. Sure, they broke up publicly at least once, in mid-2004 (promises, promises), but now the group's releasing a new disc on the Crucial Blast label and undertaking a sizable tour. Needless to say, with Contagion Heuristic, founding 'waves John Roman and Dave Kuzy are baaack, sailing the seas of glue this time with Adam McGregor (of Creation is Crucifixion and Conelrad) on the unholy laser bass. (Original bassist Steve Moore now plays in Zombi.)
The 30-odd minutes of Heuristic are split into ten tracks of varying intensity and intent, from the grim to the goofball. Some sound like you fell asleep watching old Battlestar Galactica episodes while someone in the next room doused the entire membership of An Albatross in gasoline and dropped a match. "Eye Removal" taps a nightmarish paranoia before unleashing the sci-fi laser beams.
Spacey and sludgy, this latest from the Microwaves tempts you to affix a tentative stoner-metal label. Except there's no way I'd be able to listen to this while high. But then again I'm not, to use their phrase, a "slime aesthete," so if you want to, that's your problem. May you enjoy this sick 'n' awesome half-hour from these local vets.
Mary Celeste and Microwaves CD release show, with Lord Grunge, Harangue, Tim Williams and DJs Dave Wheeler and Mike Rensland. 8 p.m. Thu., Oct. 19. ON, 5005 Penn Ave., Garfield.