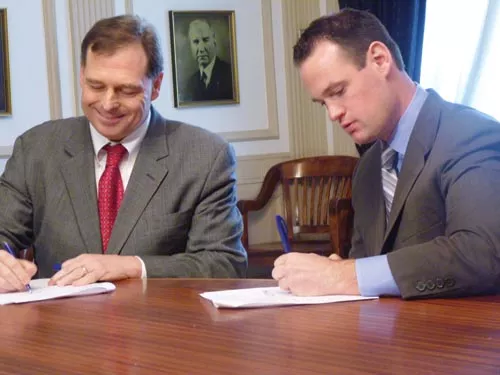 As Rich Fitzgerald and Mark Patrick Flaherty spend the next 13 days vying to become the Democratic nominee for Allegheny County Executive, one question might keep popping into your head:
What's the difference?
Local races rarely involve black-and-white social issues like abortion (although Flaherty is pro-life and Fitzgerald pro-choice). And sometimes the differences between positions on an issue can come down to splitting hairs. (See "Executive Decision").
The two candidates do have a markedly different position on drilling in the Marcellus Shale -- a policy that could have financial and environmental consequences for years to come. But even there, the differences aren't the kind that get environmentalists excited.
Drillers have shown great interest in pockets of gas contained in the Marcellus Shale, a mile-deep rock formation underlying much of Pennsylvania. Among the highest-profile sites is the land lying beneath the Pittsburgh International Airport, which the county owns.
Fitzgerald proposes bidding out the drilling rights on such county property in hopes of getting "the highest, best bid we can." But Fitzgerald, who calls himself an environmentalist, acknowledges doubt about the process. Blowouts at wells have made headlines, and there are lingering concerns about potential contamination from "frack water," which is shot into the shale at high pressure to break up the rock and release gas.
Fitzgerald says he would not allow drilling within 2,000 feet of any home, school, hospital or nursing home. He would also use the county health department to "protect water and air quality" and appoint an expert in the county's economic-development office to counsel residents about their mineral rights should a leasing agent come to their door.
"Natural gas is the next ideal form of energy once it's out of the ground," says Fitzgerald. "But we have to explore and do it right. These companies need to be regulated very tightly."
Fitzgerald believes that even with such regulations, leasing county land could mean a lucrative upfront cash payment and subsequent royalties.
Flaherty, however, maintains that Fitzgerald's plan "doesn't net the county enough of an economic benefit. ... I think it's akin to a corporate give-away, and the land lease would do little more than offset our budget shortfall."
Flaherty's answer? "We can be partners with the gas companies," entering into a joint venture for drilling out gas that lies beneath county land. Flaherty envisions investing as much as $2.4 billion in such ventures, an investment whose return, he says, will deliver "more of a benefit to the taxpayer than what my opponent proposes."
Fitzgerald calls that proposal a "risky scheme."
"What if the well comes up dry?" he asks. "They don't always hit." What's more, he worries, "If someone gets hurt or God forbid someone gets killed, the county taxpayer has to pay for that."
Flaherty agrees the county needs to proceed "very carefully. ... We have to get a solid plan together before we do any drilling." And that plan, he says, must "encompass the health and safety risks as well as the economic benefits of drilling." But going into business with gas drillers, he says, will make it easier for the county to press its demands: "As a partner, we can make sure that they're contractually obligated to take care of these environmental and safety concerns that we have."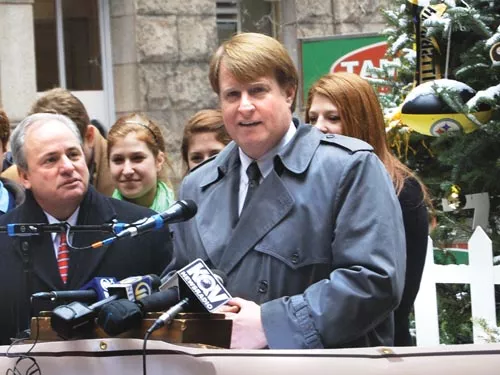 So which candidate are environmentalists backing? According to some, the answer is "none of the above."
"How am I supposed to get excited over two candidates who want to let drillers onto our county-owned land to drill for natural gas?" says Marcellus Shale activist Mel Packer. "It's like choosing between a guy who wants to beat me and a guy who wants to beat and rob me."
The Sierra Club's Allegheny Group is not making an endorsement in the race, says conservation committee chair Peter Wray.
Fitzgerald and Flaherty "talk about creating new jobs and economic development and the need to make sure they drill safely," says Wray. "But at the end of the day, they all want to drill on county land."
Both candidates have also taken contributions from firms interested in gas drilling.
Fitzgerald, for example, took $5,000 from EQT and another $1,000 from Range Resources last year; both firms are active drillers. He also took a total of $5,000 from Keith Mangini and Michael Hillebrand, executives with engineering and drilling company Huntley and Huntley.
Both Fitzgerald and Flaherty, meanwhile, have taken $1,000 from HDR Inc., an engineering firm that is a member of the Marcellus Shale Coalition, an industry group. They've also both been supported with contributions from Greenlee Partners, a Harrisburg lobbying group whose clients include Consol, a mining interest that has been expanding into gas drilling.
Not all those contributions can be attributed directly to the gas industry: Greenlee has many other clients, and engineering companies are frequent contributors with interest in projects unrelated to gas drilling.
But in any case, Packer says, many environmental activists will be tempted to sit this race out.
"Making money off of this, regardless of the funding formula, means you support destroying forests and streams," he says. "It's not alright to allow someone to commit an act of environmental violence as long as they pay you first."