Artist residencies don't always come with a built-in supply of materials, but the residency program at Pittsburgh Center for Creative Reuse give artists access to materials and space that revolves around material surplus. The 2019 artist, sculptor Emily Sciulli, began working in early July, and on Thu., Aug. 29, there will be an opening reception at Creative Reuse's gallery space highlighting her work.
Outside of her work at Creative Reuse, Sciulli works primarily with reclaimed paper and paper-based materials, like corrugated cardboard and pieces of mail. She used similar materials in her works at Creative Reuse, including music sheets and record sleeves.
"I really like materials that have a history already embedded in them," says Sciulli. "Even when I choose the paper that I use for my pieces, it's always coming from a pre-existing object, so if I use music books or something like that ... [it] already had a former life or history and being able to deconstruct those and make something new out of them."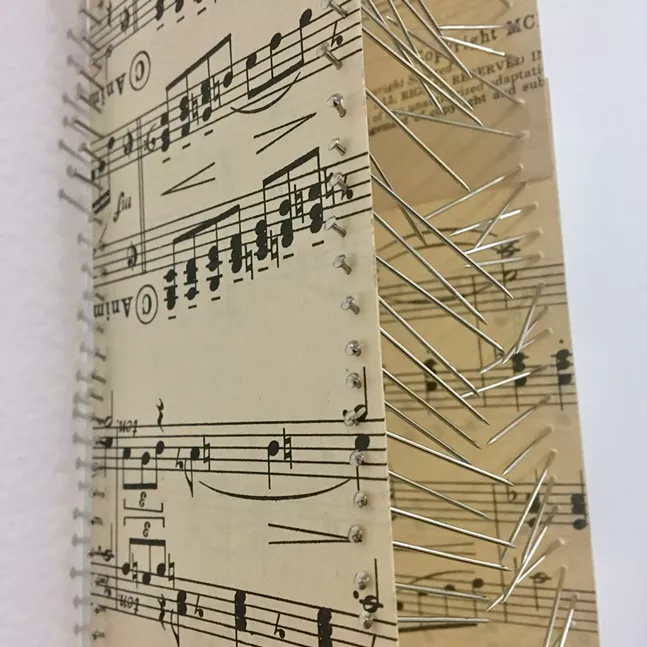 Creative Reuse is a donation-based art supply store that collects supplies that might otherwise end up in a landfill, including paper, wood, fabric, magazines, yarn, office supplies, and knick-knacks. During her residency, Sciulli had an allowance to get materials from the shop, in addition to using reclaimed materials not found in the shop.
Sciulli's works will be on view at Creative Reuse through Oct. 24. She will be leading a not-yet-announced workshop in September related to her residency works.
Artist-in-residence Emily Sciulli Opening Reception.
6-8 p.m. Thu., Aug. 29. Pittsburgh Center for Creative Reuse, 214 N. Lexington Ave., Point Breeze. Free. pccr.org