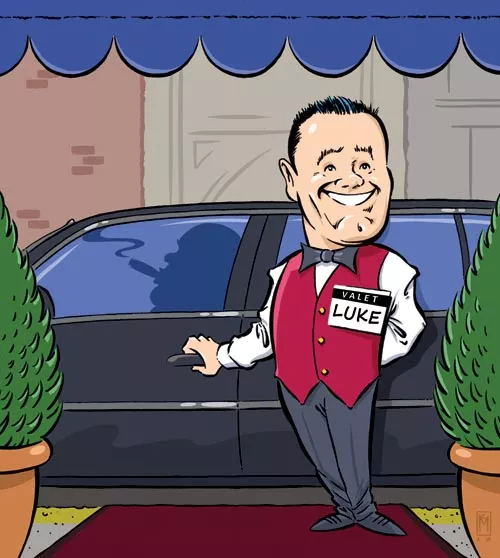 The guy at the front of the room looks like Luke Ravenstahl. He sounds like Luke Ravenstahl. And he answers to the title of "mayor." But if your chief impression of Pittsburgh's mayor comes from editorial cartoons, or deer-in-the-headlights appearances on the TV news, you might not recognize the savvy, poised guy presiding over a gathering at Brookline's St. Mark's Evangelical Lutheran Church.
The July 21 gathering was one of three public meetings Ravenstahl has held on his controversial proposal to lease garages owned by the city's Parking Authority, as well as city parking meters. Before a skeptical, sweaty crowd of 50, Ravenstahl ran his own PowerPoint presentation, confidently asserting that when interested companies bid on the leases this month, the winner will offer more than $300 million -- most of which will be used shore up the city's pension fund.
That fund is in sad shape: It has only 30 cents of every dollar it will need to pay the pensions promised to city workers upon retirement. What's more, the state legislature has given Pittsburgh until New Year's Eve to raise the total to 50 cents. If the city fails, the state will take the pension over -- and demand an extra $30 million from the city each year. That, warned Ravenstahl, translates into a 24 percent property-tax hike. Or a 44 percent hike in wage tax. Or laying off 400 cops.
"The alternatives are not pretty," he said. "Doing nothing is not an option."
The crowd was less than enthusiastic. By 2015, Ravenstahl's plan would double the hourly rates at Downtown garages, and increase meter rates from 50 cents an hour to $2/hour along Brookline Boulevard just outside.
"You're automatically driving people into Dormont," warned Pete Wagner, a fixture of South Hills politics who owns a bar in Beechview.
But Ravenstahl fielded such questions with ease. "If you're somebody that loves Brookline ... a quarter-an-hour increase isn't going to prevent you from [visiting]," he says. And even if a parking hike does hurt a store's bottom line ... "so will a 24 percent property-tax increase."
By evening's end, Ravenstahl was clearly making headway. One resident ended up pleading in favor of the plan, crying out, "Please don't raise my property tax!"
In fact, thanks partly to the state legislature, Ravenstahl's plan may end up being the worst one possible -- except for all the others.
There are other options, critics of the plan assert.
For starters, why bring in a middle man? If it's one thing city officials know how to do, it's raise costs. So why not issue a bond to get the $200 million now, and pay off the bonds with increased fees in years to come? Why let someone else make a buck? As Mount Washington resident Richard Schriner asked during the Brookline hearing, "Why give up the golden goose?"
"Because I'm not sure it is a golden goose," Ravenstahl responded. Getting a company to lease the garages, he said, would mean less risk for the city. If personal jetpacks finally come on the market, or the oil runs out, that will be the private company's problem. The city will have its money in hand.
Plus, "Parking rates would have to go up" whether the lots were leased or not, adds city Finance Director Scott Kunka. "You're doing the same thing, so why add to the city's debt?"
Some skeptics, including city Councilor Natalia Rudiak, wonder how much revenue the city is surrendering. When asked at the Brookline meeting how much revenue the lots and meters would generate over the life of the lease, though, Ravenstahl told the crowd the city hadn't compiled the number.
Rudiak says a "back-of-the-envelope" calculation suggests it could be more than $1 billion, and city council has hired its own consultants to study the matter. "The people bidding on this are making offers based on projected revenue," she adds. "So I know that number exists. And I think the public and council deserve to know what it is."
The mayor isn't the only one keeping his cards close to his vest. Some officials say they are keeping their own plans under wraps -- for now.
City Councilor Patrick Dowd says he and city controller Michael Lamb have been exploring alternatives of their own, as has council President Darlene Harris. "Our goal is to keep these assets as public as possible" Dowd says, "and to capture the value of future years of parking revenue."
But Dowd refuses to discuss what his plan is. Ravenstahl, he says, has complained that talking about alternatives might lower bids. So "in order to make sure we have the best possible opportunity, I won't put forth any plans until there's a number from the bidders," Dowd says. "If it's a billion dollars, great." If it's too much less, though, Dowd says he'll unveil the competing proposal.
Others suggest doing nothing is an option -- even if it means a state takeover.
While finding $30 million a year won't be easy, "Doubling the cost of parking is definitely the worst option," argues a position paper issued by the Allegheny Institute of Public Policy, a conservative think tank. "The potential harm to the Pittsburgh economy and its business community is simply not worth taking." The institute, not surprisingly, urges privatizing other services, along with hiring and wage freezes.
Even if laying off 400 police is unrealistic -- Ravenstahl's slides didn't mention the possibility of cutting street-cleaning crews, after all -- any cuts would set off a firestorm of protest from unions and residents. But at least the city would know where it stands, and how much it owes. Because getting the $200 million might be the easy part.
Even if one of these proposals succeeds, that still leaves nearly $500 million to go before the pension is fully funded.
Ravenstahl hopes that once the city reaches the 50 percent threshold, the money will be invested and earn 8 percent a year. The mayor also envisions the city benefiting from a "yet-to-be-determined regional revenue reform" that "we're talking to the state about."
Neither of these are sure bets. Markets, as anyone with a 401(k) knows, don't always go up. As for that "regional revenue reform"? City officials have convened a task force to study it, along with state legislators, large local nonprofits and others.
"I believe you will see the cobbling together of a series of resources for the city," says state Sen. Jay Costa, a Forest Hills Democrat. Nonprofits may contribute more money, he says, and the state might raise the city's $52 annual "emergency services tax" by $10 or so.
Ravenstahl says he's optimistic a deal can be worked out. "But I won't say it'll be easy."
So far, in fact, the state has consistently hamstrung the city's ability to raise money on its own.
For example, in 2004, state legislators forced the city to lower its parking tax from 50 percent to 37.5 percent. Under a 2009 law, it can only be raised from that level on one condition: if "the city has leased or sold all of its parking authority garages" by the end of 2009. Parking rate increases are apparently more palatable to Harrisburg if the lots are in private hands.
"That tells you where their heads are," Ravenstahl says.
State Rep. Dan Frankel (D-Squirrel Hill), for one, objects to the state dictating such specific solutions. "The city should be able to deal with its parking tax as it sees fit," he says. "But this is the best that could be done." State Republicans favor privatizing city functions, he says, and provide an incentive for doing so.
And appeasing Republicans -- who control the state Senate already and may control the House next year -- may be the city's only hope. If the city goes its own way, there's no telling what might happen next year.
"There's no deal that says if the city gets to 50 percent, we will do 'x' or 'y,'" Costa warns. At the end of the day, he says, funding the city's pension "isn't our responsibility."