The Heinz History Center will close its Smithsonian exhibition
Destination Moon: The Apollo 11 Mission
on Feb. 18, but before that happens, the Center has planned a pretty spectacular, and ambitious send-off.
The History Center teamed up with the Pittsburgh-based space robotics company, Astrobotic, to send a small keepsake to the Moon. Better yet, Pittsburghers are invited to vote for which piece of Pittsburgh pop culture they think should make the 239,000-mile journey to the lunar surface.
Among the selected items are:
• Heinz Pickle Pin
• Soil from Moon Park in Moon Township, Pa.
•
Piece
of a Steelers Terrible Towel
• Photo of Toni Haggerty from Primanti Bros
• City of Pittsburgh Flag Pin
• Kennywood Token
• Mister Rogers' "Won't You Be My Neighbor" song (on micro SD card)
Voters also have the option to write in a deserving object.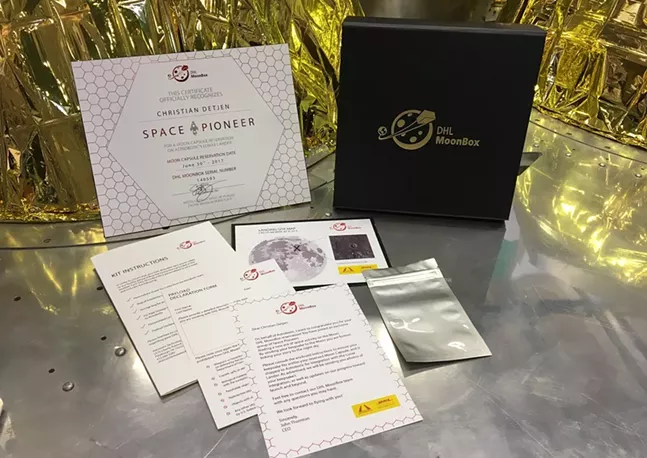 Organized through Astrobotic's MoonBox program - which was created in cooperation with the DHL shipping company - the keepsake will launch as part of the first commercial lunar landing, set for 2021. The payload will be delivered by Astrobotic's Peregrine lunar lander, which is currently on display in the
Destination Moon
exhibit.
Astrobotic CEO, John Thornton, believes the history-making launch honors the achievement of the Apollo Moon landing that stunned the world 50 years ago. If successful, the MoonBox program would allow companies, governments, non-profits, and individual consumers to send cargo to the Moon starting in 2019.
"When Apollo astronaut, Charlie Duke, landed on the Moon he brought with him a picture of his family, which he left on the Moon," says Thornton. "Now our DHL MoonBox program makes it accessible to leave a piece of your story on the Moon."
Founded by Carnegie Mellon University's Red Whittaker in 2007, Astrobotic develops technology intended to make space travel more accessible. The company currently has more than 30 prior and ongoing NASA and commercial technology contracts, including 12 signed deals for Peregrine's first mission to the Moon.
Voting
is open now through Wed., Feb. 13.
The History Center will announce the winning entry during the final week of
Destination Moon
.