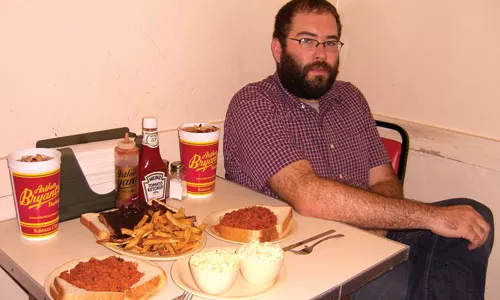 Owen Ashworth, the gruff voice behind Casiotone for the Painfully Alone, can properly be deemed more a storyteller than anything. "I use my life and my friends' lives as starting points for a lot of my songs, but I definitely feel no obligation to stick to the facts," he says. "When you write songs, people tend to assume it's God's truth, coming straight from the heart. But I come at writing more like a writer -- someone who's more distanced from the words."
It's no surprise then that Casiotone's output is rich with character studies, most dealing with lost twentysomethings in that liminal state between college and adulthood. Inasmuch as that aimless demographic can have an anthemist, Ashworth is it.
As you might have already guessed, Casiotone's songs are arranged first and foremost for the primitive Casio SK-1 keyboard and synthetic drumbeats. On last year's Etiquette, however, Ashworth moved beyond the strict lo-fi limitations he'd operated under for most of a decade, adding additional instrumentation here and there. "Other people were starting to cover my songs and it was interesting to hear their interpretations; I started to become bored with the limitations I had placed on myself," he says.
Clever and well-integrated pop culture references punctuate Ashworth's oeuvre -- hidden gold for the culturally literate. In one song, a character named Creedence Clearwater Wright pines for his childhood friend and desired love, Elodie Eye; in the anthemic "Young Shields," the narrator identifies with, among other things, Patty Hearst and Squeaky Fromme.
It's at once surprising and yet completely sensible when Ashworth cites an important early inspiration: "I was listening to a lot of hip-hop radio, and The Geto Boys had this song, 'My Mind Is Playing Tricks on Me,' and there was something really vulnerable there -- I cared for the people in the song. That was different from most of what I'd hear on the radio."
Indeed, vulnerability plays a recurring role in Casiotone's music: Someone is always late on rent, separated from a loved one, messing up and afraid what the parents might think. In one case, Ashworth's deep, gravelly voice conveys the perspective of an anonymous twentysomething who might as well be a petulant 15-year-old: "Got a letter from Mom and Dad, I swear to God they don't get me at all." The delivery highlights the nature of the plea as both hilariously trite and painfully sincere.
More often than not, Ashworth is hitting precisely these notes, somewhere in the confused territory of real emotions. Perhaps this music requires a fairly specific type of listener, but for this target audience, Casiotone provides the consummate soundtrack.
Casiotone for the Painfully Alone, To Bad Catholics, Steve Goldberg & The Arch Enemies, Elliot Sussman. 8 p.m. Sat., Nov. 10. Garfield Artworks, 4931 Penn Ave., Garfield. $7. All ages. 412-361-2262 or www.garfieldartworks.com