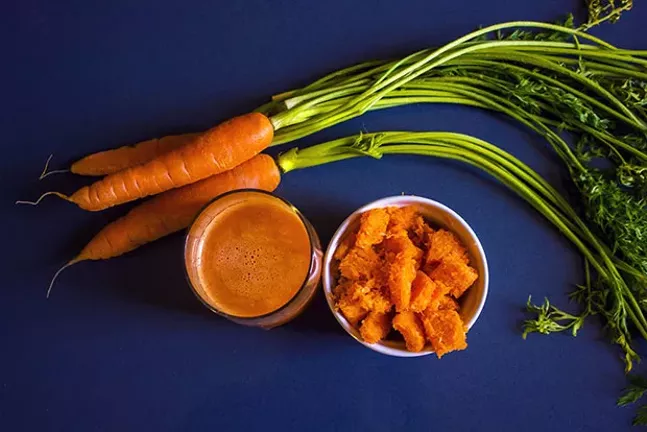 I love this dish because it utilizes the vegetable waste from my juicing habit. It's simple and delicious and you can also substitute beets or other root veggies for the carrots. Food waste is the hot topic this year. Every conference and chef is talking about it, with reason. Forty percent of the food grown in the U.S. goes to waste. As a restaurant chef, this fact is something I want to change. Utilizing the whole product (animal or vegetable) is a small way to create a big impact. We as chefs and consumers have the power to change the way we buy, consume, recover and redistribute food.
Ingredients:

5 carrots, juiced, with juice and pulp saved
Dough

4 cups all-purpose flour
½ cup sour cream
1 tsp. salt
2 tbsp. olive oil
1 cup of saved carrot juice
2 whole eggs
Filling

¼ cup onion, minced
1 tbsp. garlic, minced
1 tbsp. ginger, minced
¼ cup diced bacon
2 cups ground pork
2 cups carrot pulp
2 tsp. fish sauce
1 tbsp. soy sauce
1 tsp. sambal
2 tbsp. scallions, chopped
1 tbsp. cilantro stems/leaves, chopped
lime
For the dough: In a stand mixer, on a low setting with the hook attachment, combine all dry ingredients, and then add all wet ingredients. Once the dough forms, remove from bowl and knead by hand on a floured surface. Cover and let rest.

For the filling: In a big sauté pan, render bacon and set aside the fat. In the fat, sweat the onions and garlic. Once translucent, add ginger and brown the ground pork. Add carrot pulp, and season with fish sauce, soy sauce and sambal. After 10 minutes, when the flavors start to come together, add cilantro and scallions. Season with salt and lime.
Roll dough to 1/8-inch thickness, and cut with a pastry cutter. Fold and fill pierogies. I use water and my fingers to form dumplings, but egg wash also works. Boil pierogies for two minutes, then shock in ice water. To serve, heat in brown butter, and garnish with yogurt and cilantro leaves.