Two Pittsburgh writers focused on racism and xenophobia in America are receiving grants to help them complete their current projects, courtesy of the Carol R. Brown Achievement Awards.

Adriana Ramirez, a writer, critic, and performance poet, is 2019's "established artist" and plans on using the $15,000 grant to explore the legacy of generational conflict in her Mexican-Colombian family. Her nonfiction book uses her grandmother's story to trace how a civil war that started in Colombia in 1948 led to U.S. interventionist policies in Latin America that still resonate today.
The award's "emerging artist" is Cameron Barnett, an African-American poet and educator whose work — including his 2017 book of poems, The Drowning Boy's Guide to Water — explores the lives of Black people in North America. Barnett and Ramirez will be recognized on Dec. 9 during a ceremony at Point Park University.
Originally conceived in 1991 as the Creative Achievement Awards by former Pittsburgh Cultural Trust president Carol R. Brown, the program is now co-sponsored by The Pittsburgh Foundation and The Heinz Endowments and provides financial support to two artists, one established and one emerging, each year. Previous winners include artist Alisha B. Wormsley, poet Toi Derricotte, and Bricolage artistic director Tami Dixon.
Unlike many grants and awards, recipients are allowed to use the money as they see fit, an aspect that appeals to Ramirez. Along with a $10,000 grant she received earlier this year from the Investing in Professional Artists program, she says the award allows her to afford certain services essential to her work, including childcare for her toddler son.
"It's kind of awesome, because usually when it's a grant, you have to submit a budget," says Ramirez. "But in this case, it's a lot more carte blanche."
The money will also go toward traveling to Texas, the state where her parents settled after they emigrated to the U.S. from Mexico when she was three months old. She says the trips allow her to gather information for her book from experts at the Baker Institute for Public Policy at Rice University, among others.
For Barnett, the award is a way to inspire his students at Falk Laboratory School, where he teaches sixth-grade history and seventh-grade English language arts, in addition to helping him pay down his student debt.
"Several of my students are genuinely interested in writing poems and stories," he says in a press release. "To know that I've won an award could make them realize that if someone like Mr. B can do it, their teacher teaching them how to write, then they're not too far away from something like this for themselves."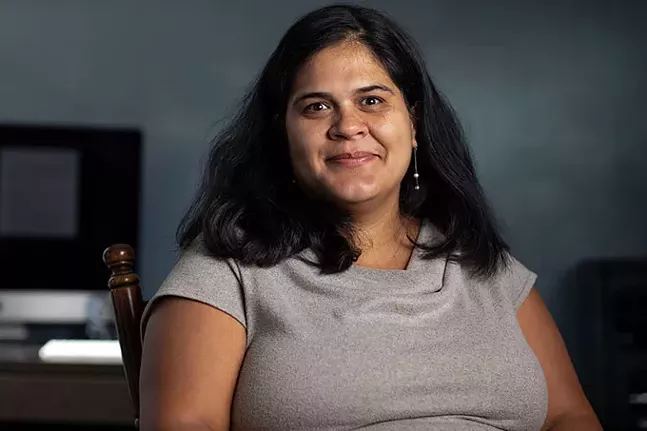 A press release reveals that he, like Ramirez, is also in the process of completing a new work, a second full-length book of poetry described as centering on "the historical and racial roots of his heritage in the U.S. and Canada, and the histories of slavery, Jim Crow, and the civil rights movement."
Both recipients dwell on the darker side of American history, something Ramirez believes has become forgotten or white-washed, as evidenced in past interactions with her students at Pitt.
"I remember asking my students, 'How many countries do you think the U.S. has invaded?'" she says, adding that many were surprised to learn that the U.S. had invaded Panama and Mexico. "There's this moment where we tend to block out our own history because it's kind of ugly sometimes. I'm really interested in that ugly."
That ugliness, she says, includes driving by the now infamous immigrant detention center in her hometown of McAllen, Texas, during her research trips. In light of seeing the worst of anti-immigrant rhetoric in the U.S., she expresses gratitude to Pittsburgh for providing her with so many opportunities to thrive and try to make life better for the local Latino community.
"It's so lovely to be supported especially these days when anti-immigrant fervor is at a max," says Ramirez. "To be a woman of color and an immigrant and to be celebrated is surreal."
2019 Carol R. Brown Creative Achievement Awards. 5:30 p.m. Mon., Dec. 9. Pittsburgh Playhouse, 350 Forbes Ave., Downtown. Free with registration. pittsburghfoundation.org