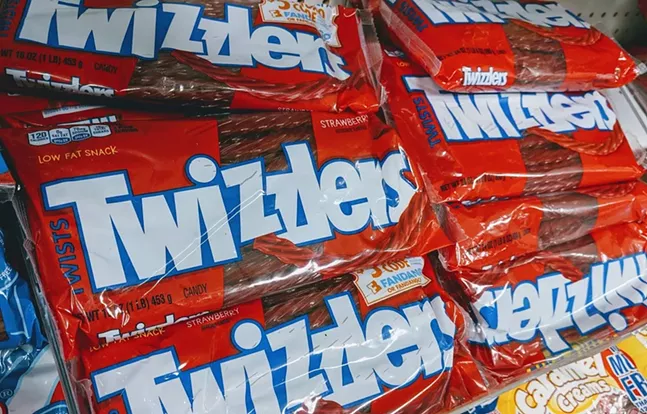 It's Halloween, which means everyone, be they young or old, will be liberally dipping into the candy bowl. But if you're a fan of Twizzlers, that vaguely waxy, strawberry-flavored licorice that are definitely not Vines, your sugar consumption might come with a little less guilt this year thanks to Carnegie Mellon University (CMU).
A group of students from CMU's Master of Information Systems Management (MISM) program worked with Hershey to reduce the amount of energy used to manufacture the candy giant's signature red twists. A recent
CMU article
announced that the group had found several ways for Hershey to "reduce electricity use without sacrificing product quality."
As described in the story, the project was looking for a 10 percent improvement in energy efficiency at Hershey's confectionary plant in Lancaster, Pa.
Louis Melocchi, an adjunct instructor at CMU's Heinz College of Information Systems and Public Policy who served as the team's adviser says, "The project explored opportunities to refine or transform production and maintenance processes."
Using data-collecting sensors over a period of time, the students found that, of the five main phases of Twizzlers production — cooking, cooling, extrusion, drying, and packaging — extrusion presented the best opportunity to reduce energy consumption. The students then came up with an idea for Hershey to achieve a more efficient, less costly production process and suggested transitioning to renewable energy sources, or generating power on-site.
"Our team offered practical ways for Hershey to implement energy-saving procedures," says Melocchi. "The project recommendations could also have broader appeal to other manufacturers who are searching for ways to not only be smarter in their operations, but also to address the increasing environmental, social, and governance demands we are seeing from regulators, shareholders, and consumers today."
Founded in 1894 by Milton Hershey, the company has expanded nationally and internationally, with plants making dozens of sweet products ranging from the iconic Hershey chocolate bar to gum and ice cream.
The project is part of Hershey's goals to be more environmentally sustainable. On its website, Hershey has released
annual reports
showing efforts to reduce the company's carbon emissions, water usage, waste from packaging, and more. In 2018, Hershey also reported that 80 percent of the cocoa used in its chocolate products was sustainably sourced and that it planted 2,685,669 trees planted in West Africa, the U.S., and Mexico.
In September, the company was recognized by the Dow Jones Sustainability World and North America Indices (DJSI), which evaluates corporate sustainability based on environmental, social, and governance factors. According to a press release, between 2012 and 2019, Hershey saw double-digit percentage improvements in key sustainability areas, including environmental and raw material sourcing.
"Operating responsibly and sharing our goodness with the world is part of the DNA within Hershey and has set us apart for more than 125 years," says Hershey president/CEO Michele Buck in a press release. "I'm proud of how we have increased our focus and sustainability efforts that will continue to positively impact our business and the impact we can have on some of the world's most pressing issues."
While the project was mutually beneficial for Hershey and for the students as real-world experience, it also had other perks.
"We were surprised at how many varieties of Twizzlers there actually are," says Melocchi. "During one session, we sampled most of them and had a lot of fun eating our way through."