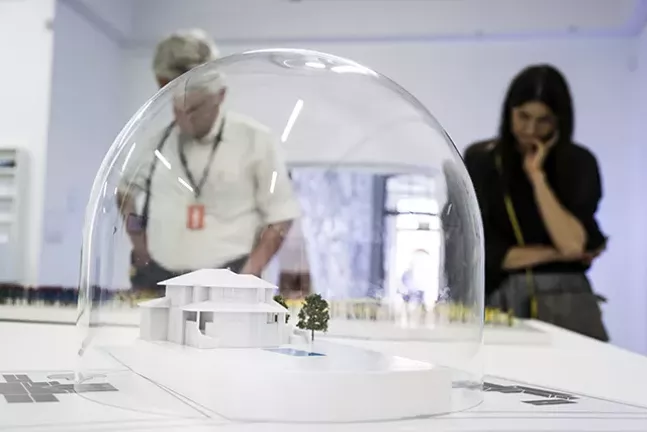 When thinking about cybersecurity, what most likely comes to mind are the major data breaches that have hit companies like Target, Home Depot, and Marriott hotels over the past decade. Or maybe it's the hacking of the credit report service Equifax, through which more than 148 million people had their personal financial records exposed. While consumers might expect those big names to shore up security efforts, they also need to take steps of their own to prevent becoming a victim of identity theft. To add to that effort, the Carnegie Library of Pittsburgh is hosting The Glass Room, a traveling pop-up exhibit that aims to generate a necessary conversation around data and privacy.
Developed by the Berlin-based nonprofit organization, Tactical Technology Collective, The Glass Room is described as a series of "pop-up tech stores with a twist, featuring interactive art works and installations." Since its launch in 2017, the show has traveled to Berlin, New York, and London.
The show, now on view at CLP-East Liberty May 18-31, previously ran at CLP-Oakland through May 15.
Tess Wilson, an outreach librarian for CLP's Library in Your Neighborhood, Community and Schools (LYNCS) program, says the exhibit coincided with Choose Privacy Week, an annual American Libraries Association initiative aimed at raising awareness of and engaging users with cybersecurity issues. She believes that for libraries to operate effectively, they must be able to ensure that anyone who uses their resources will not have their data compromised.
"While data privacy and surveillance might seem like a tangential, even surprising subject for a public library to tackle, it's at the root of our institution," says Wilson. "Think about the services we offer – public computers, free internet, access to online and print materials. And then remember that we offer these services with a promise of confidentiality."
She adds that CLP recognizes the need to be more vigilant about privacy issues in the digital age as they become more dependent on technology.
"The more connected we are to the Internet of Things and the more we find ourselves dependent on technologies of convenience, the more crucial it becomes to understand what we sacrifice for that kind of access," says Wilson. "Our personal data is becoming increasingly precious and vulnerable."
If the CLP-Oakland show is any indication, local library-goers are definitely concerned about the issue.
"The response at CLP-Oakland has been good, and there have been some fascinating responses from visitors," says Wilson. "Some people leave feeling informed, while others leave feeling a bit concerned, even stunned, by what they've learned through the interaction."
After the exhibit, visitors can continue exploring ways to protect their identity through the Data Detox Kit, an eight-day, step-by-step guide to eliminating traces of your data online. The program, which focuses on scrubbing information from apps, social media, and your phone, is available for free on Tactical Technology Collective's website.
CLP also offers complementary programming and information for The Glass Room, including a Data Detox blog series published in the month leading up to the exhibit. On May 22, CLP-East Liberty will host My Terms of Service, a privacy workshop examining what's behind the ubiquitous "I Agree" box.
Mainly, Wilson wants the exhibit to make visitors feel more empowered in the often confusing and deceptive online world.
"We hope visitors will use this exhibit as a foundation to start conversation and introspection regarding their own digital footprint," she says. "In other words, we hope people leave with a better understanding of who has access to their data, how it might be used, and what they can do to take back some control in this equation."